Finnish Folk Metal Superstars KORPIKLAANI are set to release their new studio album »Kulkija« ("Wanderer"), on September 7th, 2018 via Nuclear Blast. To bridge the gap until its unveiling, the band has launched another album trailer, in which they talk about the album's recording and production.
KORPIKLAANI also released some news about their long awaited tour today! The band's last run in North America (w/ ENSIFERUM, TROLLFEST) was over 3 years ago. Now the wait is over and the band will finally return to the states for a 25-show tour in October & November 2018. Russian pagan/folk metallers ARKONA will be joining them as direct support act. All dates can be found below.
Be prepared, more show announcements for other continents will follow shortly!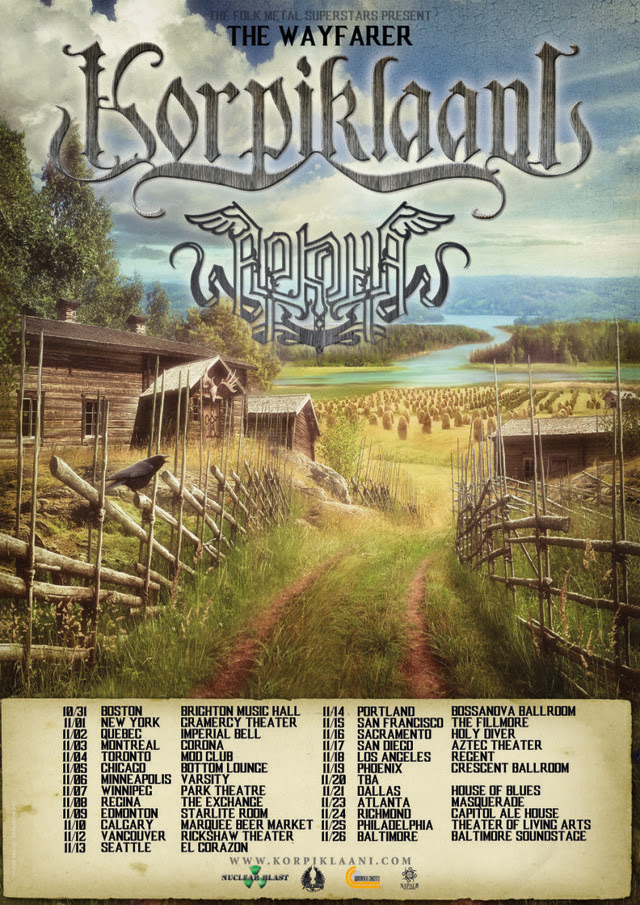 »The Wayfarer«
w/ ARKONA
31.10. USA Boston, MA – Brighton Music Hall
01.11. USA New York, NY – Gramercy Theatre
02.11. CDN Québec, QC – Impérial Bell
03.11. CDN Montréal, QC – Corona Theatre
04.11. CDN Toronto, ON – Mod Club Theatre
05.11. USA Chicago, IL – Bottom Lounge
06.11. USA Minneapolis, MN – Varsity
07.11. CDN Winnipeg, MB – The Park Theatre
08.11. CDN Regina, SK – The Exchange
09.11. CDN Edmonton, AB – The Starlite Room
10.11. CDN Calgary, AB – Marquee Beer Market
12.11. CDN Vancouver, BC – Rickshaw Theatre
13.11. USA Seattle, WA – El Corazón
14.11. USA Portland, OR – Bossanova Ballroom
15.11. USA San Francisco, CA – The Fillmore
16.11. USA Sacramento, CA – Holy Diver
17.11. USA San Diego, CA – Aztec Theatre
18.11. USA Los Angeles, CA – Regent Threater DTLA
19.11. USA Phoenix, AZ – Crescent Ballroom
20.11. USA TBA
21.11. USA Dallas, TX – House of Blues
23.11. USA Atlanta, GA – Masquerade
24.11. USA Richmond, VA – Capital Ale House
25.11. USA Philadelphia, PA- Theatre of Living Arts
26.11. USA Baltimore, MD – Soundstage
More KORPIKLAANI dates:
28.07. H Székesfehérvár – Fezen Festival
03.08. D Wacken – Wacken Open Air
18.08. D Dinkelsbühl – Summer Breeze

»Kulkija« – Release Tour
07.09. RUS St. Petersburg – Aurora (Release Show)
08.09. RUS Moscow – Glavclub (Release Show)
09.09. RUS Voronezh – Aura
11.09. RUS Rostov-on-Don – Arena
12.09. RUS Krasnodar – Arena Hall
13.09. RUS Samara – Zvezda
14.09. RUS Ufa – Ogni Ufy
15.09. RUS Ekaterinburg – Tele-Club
16.09. RUS Chelyabinsk – Galaktika
18.09. RUS Omsk – Angar
19.09. RUS Novosibirsk – Podzemka
21.09. RUS Irkutsk – Dikaya Loshad
22.09. RUS Vladivostok – San-Remo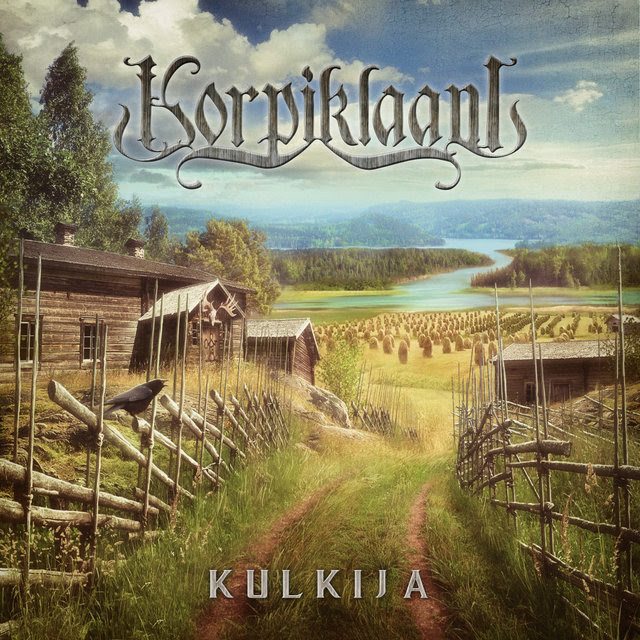 Pre-order »Kulkija« in various formats, here: http://nblast.de/KorpiklaaniKulkija
Pre-order the album digitally to receive 'Harmaja' and 'Kotikonnut' instantly!
Pre-save »Kulkija« via Spotify: http://nblast.de/KORPIKLAANIPreSave
Listen to the tracks in the NB Novelties Playlist: https://open.spotify.com/user/nuclearblastrecords/playlist/6aw9wiedFzzhJiI96DhNhw
With 14 tracks and a total running time of over 71 minutes, »Kulkija« is the group's longest album to date. Working with producer Janne Saksa for the first time, the album was recorded at Petrax Studio (Hollola, FIN) and mixed at Sound Supreme Studios (Hämeenlinna, FIN). Mastering duties were handled by renowned engineer Svante Forsbäck (RAMMSTEIN a.o.).
The cover was designed by Jan Yrlund (BATTLE BEAST, MANOWAR etc.), who has already created several artworks for previous albums and singles for the band.
Founding member Jonne commented:
"We've never been as satisfied with a final result as we are with »Kulkija«. We tried to keep it very natural. Like the wanderer, this album is a journey, one that makes you feel good."
Sami added:
"»Kulkija« isn't just a collection of songs, it's a "real" album with a unique atmosphere guiding the listeners through a long journey. All songs were well prepared in advance and nothing needed to be arranged in the studio. Tuomas [fiddle] & I had lots of space to develop and play the folk arrangements."
—
More info:
www.korpiklaani.com
www.facebook.com/korpiklaani
www.nuclearblast.de/korpiklaani