Αγωνία τέλος! Στο πλαίσιο της τελευταίας παγκόσμιας περιοδείας τους, τελικά  οι Slayer έρχονται στη χώρα μας, για να αποχαιρετήσουν και τους Έλληνες!

12 Ιουλίου 1996. Το θρυλικό Rock of Gods φέρνει για πρώτη φορά στην Ελλάδα τους ηγέτες του thrash metal. 13 Ιουλίου 2019. 23 χρόνια -και μία ημέρα- μετά, το πρώτο AthensRocks τους υποδέχεται και αυτήν τη φορά δίνει την ευκαιρία στο ελληνικό κοινό να τους δει στο final show τους!
Έπειτα από 37 χρόνια, το συγκρότημα που έγραψε με χρυσά γράμματα το όνομά του στο βιβλίο της metal μουσικής, κρεμάει τις κιθάρες του.
Από τον περασμένο Μάιο, όταν και ξεκίνησε η τελευταία παγκόσμια περιοδεία τους, οι Slayer προκαλούν σε κάθε τους live πανικό, με sold out show όπου και αν εμφανίζονται! Από το Σακραμέντο στις Η.Π.Α. μέχρι το Τεοτιχουακάν στο Μεξικό και από το Ρέικιαβικ στην Ισλανδία μέχρι τη Βιέννη στην Αυστρία, παντού, χιλιάδες fans φωνάζουν «Slaaaaayeeeeeeer» πιο δυνατά από ποτέ!
Η θρυλική μπάντα από την Καλιφόρνια δημιουργήθηκε το 1981 από τους Kerry King, Jeff Hanneman, Tom Araya και Dave Lombardo. Θεωρείται μία από τις τέσσερις σημαντικότερες του thrash metal, μαζί με τους Metallica, Megadeth και Anthrax.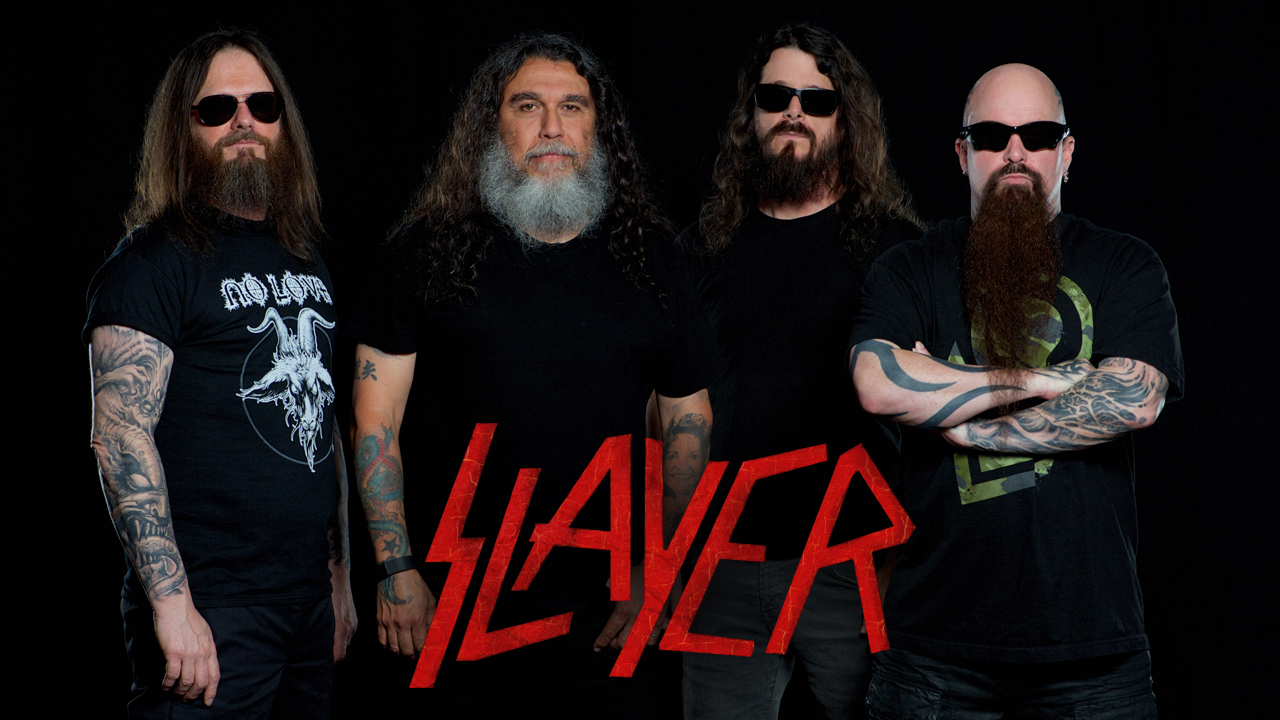 To ντεμπούτο άλμπουμ των Slayer κυκλοφόρησε το 1983 με τίτλο «Show No Mercy» και κόστισε μόλις 400 δολάρια. Άγγιξε, ωστόσο, τις 60.000 πωλήσεις! Με τον ακραίο, καταιγιστικό και «δολοφονικό» ήχο τους, σε συνδυασμό με τους προκλητικούς στίχους τους για τη θρησκεία, τους serial killers, τον πόλεμο, τα βασανιστήρια και την τρομοκρατία -αρκετοί εκ των οποίων, μάλιστα, λογοκρίθηκαν και απαγορεύθηκαν- το συγκρότημα έκανε αμέσως αίσθηση!
Το «Reign in Blood», που κυκλοφόρησε το 1986, χαρακτηρίστηκε ως το πιο «σκληρό» άλμπουμ όλων των εποχών, απογειώνοντας τη φήμη της μπάντας σε ολόκληρο τον κόσμο. Δικαίως συμπεριλαμβάνεται στη λίστα με τα καλύτερα heavy metal άλμπουμ ever.
Oι Slayer έχουν κυκλοφορήσει συνολικά 12 studio άλμπουμ,
με πιο πρόσφατο το «Repentless» (2015) και δύο live άλμπουμ. Τέσσερις φορές, μάλιστα, έχουν προταθεί για βραβείο Grammy, κερδίζοντας τις δύο από αυτές: Το 2007 για το τραγούδι «Eyes of the Insane» και το 2008 για το τραγούδι «Final Six».
Τον Μάιο του 2013 ο Jeff Hanneman έφυγε από τη ζωή, βυθίζοντας στη θλίψη τους απανταχού λάτρεις του συγκροτήματος και όχι μόνο… Το μεγάλο κενό που άφησε πίσω του ανέλαβε να καλύψει ο Gary Holt.
Πριν, όμως, από περίπου έναν χρόνο, οι Slayer ανακοίνωσαν το τέλος με μία συγκινητική ανάρτηση στα social media, που ανέφερε μεταξύ άλλων: «Παίζοντας την πιο επιθετική μουσική που θα μπορούσε να δημιουργηθεί, με σχεδόν 3.000 συναυλίες σε ολόκληρο τον κόσμο, κερδίζοντας αμέτρητα βραβεία, κάνοντας εκατοντάδες εξώφυλλα και δυστυχώς βιώνοντας την απώλεια ενός εκ των ιδρυτικών μελών μας (του κιθαρίστα Jeff Hanneman), η εποχή των Slayer, ενός εκ των μεγαλύτερων thrash/metal/punk γκρουπ όλων των εποχών, φτάνει στο τέλος της».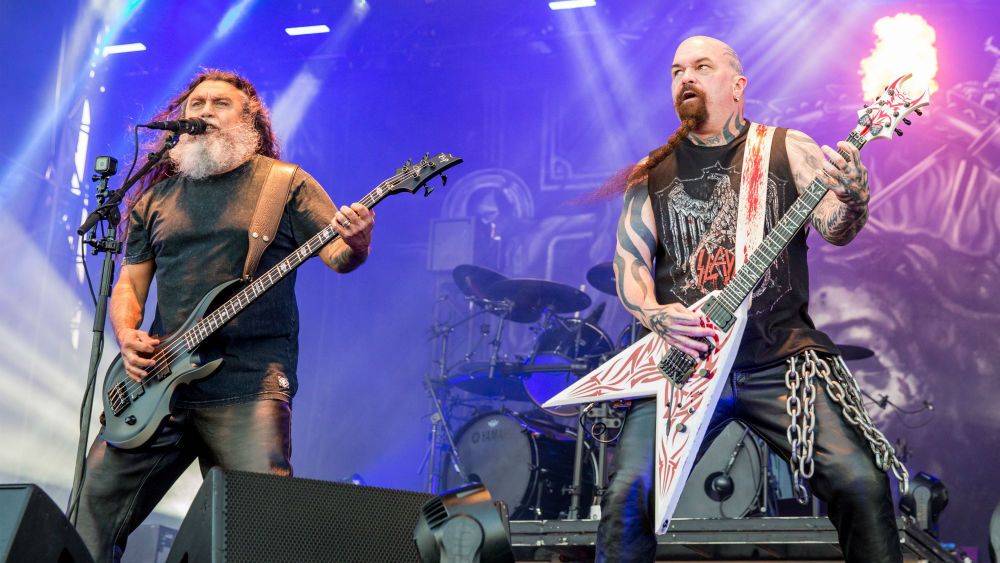 Τότε, οι χιλιάδες θαυμαστές των Slayer στην Ελλάδα ευχήθηκαν το Farewell Tour τους να περιλαμβάνει μία στάση και στη χώρα μας, προκειμένου να τους απολαύσουν για μία τελευταία φορά live.
Η ευχή τους, λοιπόν, έγινε πραγματικότητα!
Ελάτε να φωνάξουμε μαζί… Slaaaaayeeeeeeer!
Για μία τελευταία φορά… στο πρώτο AthensRocks!
Στο φεστιβάλ που έρχεται να αλλάξει τα καθιερωμένα και να γίνει θεσμός!
Η προπώληση θα ξεκινήσει μέσα στον Ιανουάριο
---
The mystery was solved! In the context of their last world tour, Slayer finally comes to our country to say goodbye to the Greeks too!
July 12, 1996. The legendary Rock of Gods brings the thrash metal leaders for the first time in Greece. July 13, 2019. 23 years – and one day after, the first AthensRocks welcome them and this time gives the Greek audience the opportunity to see them at their final show!
After 37 years, the band who wrote in golden letters his name in the book of metal music, hangs his guitars.
Since last May, when their latest world tour has begun, Slayer is provoking everywhere live panic, with sold out shows wherever they appear! From Sacramento to the US until Teotihuacan in Mexico and from Reykjavik in Iceland to Vienna in Austria, everywhere, thousands of fans call out "Slaaaaayeeeeeeer" louder than ever!
The legendary band from California was created in 1981 by Kerry King, Jeff Hanneman, Tom Araya and Dave Lombardo. It is considered one of the four most important of thrash metal, along with Metallica, Megadeth and Anthrax.
Slayer's debut album was released in 1983 under the title "Show No Mercy" and cost only $ 400. It touched, however, the 60,000 sales! With their extreme, stupefying and "murderous" sound, coupled with their provocative lyrics on religion, serial killers, war, torture and terror – some of which were censured and banned – the band did immediately feel!
"Reign in Blood," released in 1986, was featured as the "hardest" album of all time, taking off the band's reputation throughout the world. It is rightfully included in the list of the best heavy metal album ever.
Slayer have released a total of 12 studio albums,
with more recent "Repentless" (2015) and two live albums. Four times, in fact, they have been nominated for a Grammy Award,
winning two of them: 2007 for the song "Eyes of the Insane" and 2008 for the song "Final Six".
In May 2013 Jeff Hanneman left life, plunging into grief all the band's enthusiasts and not only … The big gap left behind was taken over by Gary Holt.
Before, however, about a year ago, Slayer announced the ending with a touching social media post, saying: "Playing the most aggressive music that could be created with nearly 3,000 concerts around the world, winning countless awards, making hundreds of covers and unfortunately experiencing the loss of one of our founding members (guitarist Jeff Hanneman), the season of Slayer, one of the biggest thrash / metal / punk groups of all time, is coming to an end. "
Then, the thousands of fans of Slayer in Greece wished their Farewell Tour to include a stop in our country to enjoy them for the last time live.
The pre-sale will begin in January