"We always knew this tour would take us into 2019," said SLAYER's Kerry King, "and we've been blown away by the response we've been getting here in North America. We've heard about fans who have driven five, six hours, or flown in from other cities or countries to see us, so we want to assure our fans that we'll be on the road through 2019 and will get to as many places around the world as possible to make it easier for everyone to come and see us one last time."
To date, SLAYER's Final World Tour has consisted of Leg One and the just-wrapped Leg Two in North America, with Leg Three taking the band to the UK and Europe from November 1 through to December 8, 2018. The band's announced itinerary also has them headlining Mexico's ForceFest on October 7, 2018, and Hellfest Open Air in France on June 23, 2019.
Plans are already underway for SLAYER to take its Final World Tour to South America, Australia and Japan in 2019. But there will be more, plenty more. 2019 is twelve months long, and the world is a big place. Additional tour Legs will be announced soon.
"I just want to take the time out to say thank you to all our fans who have made this first part of this tour phenomenal," said Tom Araya. "You really are loyal and dedicated fans and we appreciate that so much from you. We still have quite a few places to play, so next year, keep your eyes and ears open so you can catch us live one last and final time. Again, thank you!"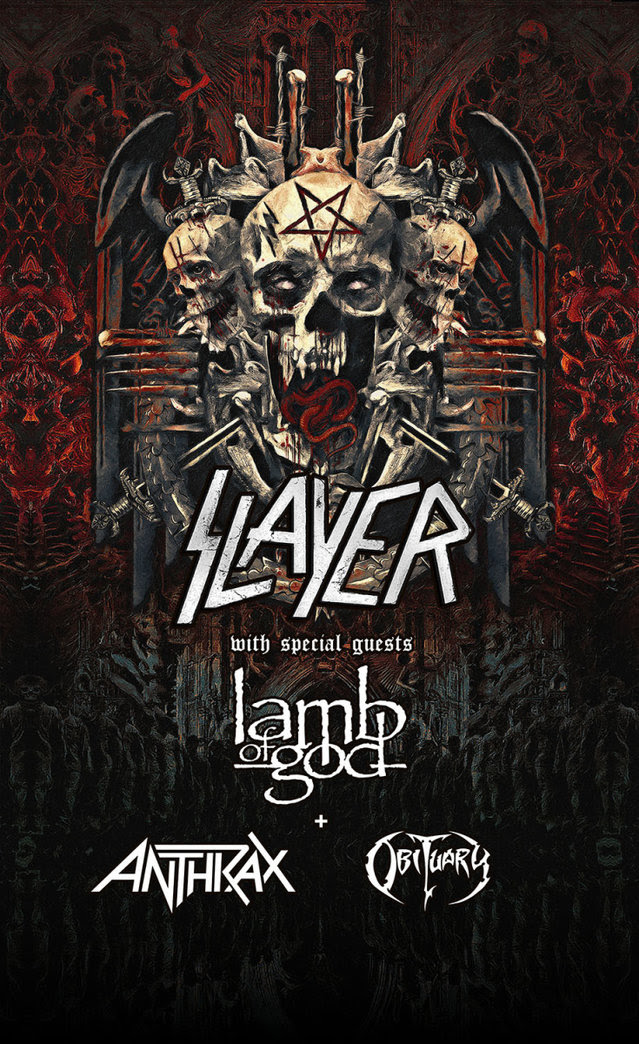 w/ LAMB OF GOD, ANTHRAX, OBITUARY
Tickets for the German shows are available here: https://www.nuclearblast.de/de/produkte/tickets/indoor/ticket/slayer-final-world-tour-2018.html
01.11.              IRL       Dublin – 3Arena
03.11.              UK       London – Wembley Arena
05.11.              UK       Cardiff – Motorpoint Arena
07.11.              UK       Birmingham – BCA
09.11.              UK       Manchester – Arena
10.11.              UK       Newcastle – Metro Radio Arena
12.11.              UK       Glasgow – The Hydro SSE
14.11.              D         Dortmund – Westfalenhalle
15.11.              NL        Zwolle – Ijsselhallen *SOLD OUT*
17.11.              E          Madrid – Palacio Vistalegre
18.11.              E          Barcelona – Palau Sant Jordi
20.11.              I           Milan – Mediolanum Forum
21.11.              CH       Zurich – Halle 622
23.11.              A         Vienna – Stadthalle
24.11.              D         Freiburg – SICK-ARENA
26.11.              D         Hamburg – Barclaycard Arena
27.11.              PL        Lodz – Atlas Arena
29.11.              D         Munich – Olympiahalle
30.11.              D         Erfurt – Messehalle
02.12.              D         Berlin – Mercedes-Benz Arena
03.12.              DK       Copenhagen – Royal Arena
05.12.              S          Stockholm – Hovet
06.12.              N         Oslo – Spektrum
08.12.              FIN      Helsinki – Helsingin Jäähalli *SOLD OUT*
2019
21. – 23.06.     F          Clisson – Hellfest
In addition, SLAYER's highly-anticipated »Repentless« 6,66″ vinyl box set has recently been released through Nuclear Blast. Get it here: http://nuclearblast.com/slayer-repentless-boxset
Watch »Slayer Looks Back On 37 Years«!
Part I: https://www.youtube.com/watch?v=UJe1A5M4t3o
Part II: https://www.youtube.com/watch?v=MsliP7optgE
—
More info:
www.slayer.net
www.facebook.com/slayer
www.nuclearblast.de/slayer