Με μεγάλη μας χαρά, η Patrícia Andrade των Sinistro, μας παραχώρησε συνενέντευξη και μας μίλησε για την μπάντα, το νέο τους δίσκο και για το πως αντιμετωπίζουν τη μουσική. Επιλέξαμε να μην μεταφράσουμε τη συνέντευξη ώστε να μείνουν αυτούσια τα λόγια χωρίς να αλλάξει καθόλου το νόημα.
First of all, thank you so much for your time to be interviewed by the Headbangers.gr magazine. Due to the nature of the interview I won't be able to improvise with the answers.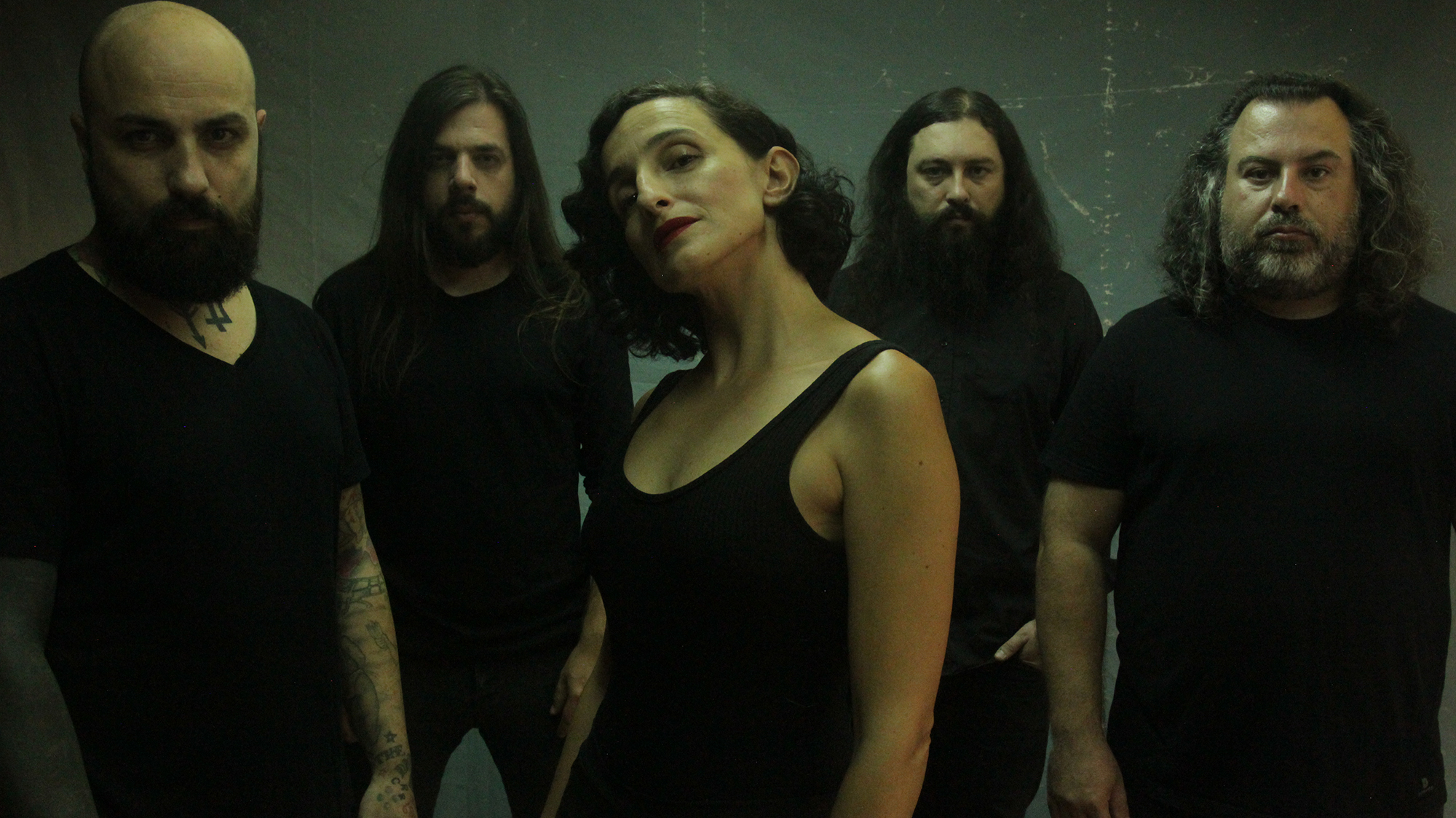 Patrícia Andrade Thank you Headbangers.gr magazine for your interest in knowing more about Sinistro.

To be true, I discovered you this year and it was an great WOW. Tell us a few words about the philosophy behind the band and what represents, especially the name Sinistro.

Patrícia Andrade Sinistro started with Fernando Matias, Rick and Paulo Lafaia has a studio experience, with no intention to play live. Was more a project to explore sound landscapes, for the pleasure to experiment ideas and put it on a record. The name Sinistro appeared when they were searching for a name that could illustrate the ambient, the sound of the band. The philosophy behind the band is to search, experiment, make music according to our feelings and intuition.  
I also discovered that you are a singer and actor. Has this feature passed to the band's music and aesthetics?
Patrícia Andrade We all put our personal and professional experiences in our music. In my case, my background has an actress was very important. The consciousness of the body, how can I use the voice, how can I express myself on stage, or in the record came from the theatre. Everything is connected. But, the most important is the "dialogue" that we establish between us (band). That´s what define Sinistro: five people, with different stories sharing through music.
You are from Portugal, there is another huge band from your country, Moonspell but they use english. Still, you decided to go with your language. Difficult task. How have you decided this and what is the acceptance you have? And by the way, what is all about your lyrics? I don't know what you are talking about! 
Patrícia Andrade Moonspell is a huge band with a long and respectful career. When Fernando Matias and Rick propose me to collaborate with Sinistro for EP "Cidade", the proposal was singing in portuguese. We didn´t think as a difficult task because, at that moment we never thought playing live or touring. And later, with "Semente" we realize that, what could be a difficulty, became an advantage. People listen and see the shows even if they don´t understand the words, the language. We are very happy and proud to tour, touch people´s heart in our mother tongue. Most of all, music is communication, feeling, share, passion. Living that moment, with everything. If you feel, people will feel it above the language that you sing.In general, the lyrics speaks about people stories, thoughts, fears, love, existence. Human nature and it´s complexity is fascinating. Observing people, the city where you live, what surround you is a big exercise to questioning yourself. Is nothing new. But is what moves the most to write. Sometimes I feel that i´m in repeat mode, and speak about the same thing. But is stronger than me. So, the lyrics are not so different in each album.    
It is time of the 4th album after "Sinister", "Seed" and "Semente". With the Title "Sangue Cassia". What does it mean Sangue Cassia (what is the story behind the title) and what is the connection with the once again surprising cover?
Patrícia Andrade The first album was "Sinistro", than EP "Cidade", "Semente" and now "Sangue Cássia". "Sangue Cássia" means the essence of blood. In this album we connect flowers/plants names with the songs. Many songs has names of plants/flowers to illustrate the feeling and meaning of the songs. The title express the essence of all the stories in the album. Cássia, one of the meanings is fragrance, perfume. In Sinistro title means the essence of life, of living. About the Paradise Lost cover. Many of us are Paradise Lost fans, we had the privilege to tour with them last year. Was an amazing tour. We done "Nothing Sacred",cover.  
Most of all, music is communication, feeling, share, passion. Living that moment, with everything
What differences are there between the old albums and the new One?
Patrícia Andrade "Sangue Cássia" is more mature, with more heavy guitars, denser.
You have been a part of the Oslo Inferno and performed with bands Krakow, Memoriam, Ihsahn, Satyricon. More let's say "party" (lol) bands. How does the audience reacts to your slow dark music?
Patrícia Andrade The reaction was great. The audience was "there" with us. Was a big challenge! We loved it!  
I was reading the tags in your bandcamp page. #soundtrack #ambient #doom #film #soundtrack #metal #pink floyd #Lisboa. Do you feel a metal band or a soundtrack making band? Personally I think you are Performers with the ability to create new images in each listening in a difficultly decrypted musical landscape. Something closer to pink floyd or even Portishead. 
Patrícia Andrade Thank you! Is a compliment for us! Honestly, sometimes is difficult to us to define ourselves according to music categories. We feel a band with heavy sound touching soundtrack landscapes…
I saw you are preparing a very limited tour and unfortunately for me you do not go through Greece. Is that due to the obligations that artists want not to live from their art? What do you do in your everyday life? And when we will see you in Greece? 
Patrícia Andrade We love touring and play live.The strongest point in a band is play live. Is the moment were the band show the soul. Doesn´t have to sound like the record, has to be alive, with all the mistakes and qualities. That´s the beauty in playing live. And we want to tour more. That´s the beauty in performing arts. In my daily life I do dubbing for cartoons, which I love. Artists want to live from their Art if they can. We hope we can go to Greece soon, of course, it  will be a pleasure!
Your videos are FANTASTIC. I have become obsessed with the eroticism that comes out of Semente. What's the story behind this? And what should we expect from you in the future? 
Patrícia Andrade Thanks to José Dinis,the director from "Semente" Vídeos and Inês Achando the director from most of the vídeos from "Sangue Cássia". Is very important to us had artists who understand our language and felt identified with our work. About the future: We are working on it  
As far as I understand you are inspired by Diamanda Galás, PJ Harvey, Tom Waits, Portishead, My Dying Bride, Opeth, Paradise Lost, Moonspell, Black Sabbath. How much do you think your music will evolve in the future if you follow even more different listenings? Something similar like Ulver did? 
Patrícia Andrade The more you live, the more music you listen, the more you read, the more you see, the more "richer" you will be…
Thank you very much for your time and before finishing make a verse for your fans in Greece 
Patrícia Andrade Thank you so much Headbangers Magazine! Hope to see you soon in Greece to share our Sinistro experience with you!
The more you live the more "richer" you will be…