Season of Mist are proud to announce the signing of PROFANATICA! The iconic black metal outfit will release their brand new album later this year.
PROFANATICA comment on the signing: "We are more than happy to be picked up by Season of Mist, and will continue to play unholy black metal in the same style as always"
For a glimpse of things to come, check out the band's 2016 full-length 'The Curling Flame of Blasphemy' HERE!
In regard to interviews for PROFANATICA, please reach out to Jessica Otten via jessica@season-of-mist.com.
In 1990, Aragon Amori, Paul Ledney, and Brett Makowski departed INCANTATION due to artistic differences. This departure led to the birth of PROFANATICA. Influenced by such classic cults as VENOM, NECROVORE, SARCOFAGO and BATHORY, the unholy trinity together had a passion to create raw and sacrilegious Black Metal.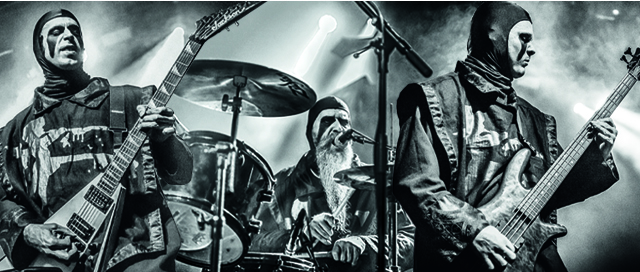 Upon the release of their first two demo tapes, PROFANATICA received their first record deal and in 1991 they released their infamous, limited edition 'Weeping In Heaven' 7″ EP, followed by the release of 'Tormenting Holy Flesh' split 12″ LP with the Colombian band MASACRE.
During this time, PROFANATICA extensively toured the Northeastern United States, often shocking many with their blasphemous live act. As the end of the year approached, Makowski and fill-in John Gelso (ex-TOTEN) departed, so Ledney and Amori invited their close comrade, DEMONCY's Wicked Warlock of Demonic Blasphemy (these days known as Ixithra) to perform the guitar work. After playing one gig together, they hit the studio to record their very first full-length. Initially entitled 'The Raping Of The Virgin Mary', the master tapes of these recordings were unfortunately destroyed in the studio (there are conflicting stories about this), and the band parted ways quickly after.
After being inactive for a while and the release of various live/collection albums, the black cult forged a new pact and unleashed their much awaited & overdue debut full-length studio album entitled 'Profanatitas De Domonatia' (2007). Early 2008 saw the release of the band's first ever DVD documenting the shocking & legendary PROFANATICA performances throughout the early 90's in the Northeastern United States. This double DVD set entitled "The Enemy of Virtue" featured a controversial and much gossiped 1992 interview.
Up to this point, live activity had ceased for nearly seven years until the black cult crushed the stage in the scorching hell of Texas at the "Sacrifice of the Nazarene Child Fest IX" on June 21, 2008. Despite some drama surrounding this performance, the band's reeking black filth destroyed the crowd. Come 2010 PROFANATICA had reached their 20th year anniversary and the time was right to unleash the band's highly anticipated second album 'Disgusting Blasphemies Against God'.
With their signing to Season of Mist, PROFANATICA is rife with creative fury, ready to unleash a new chapter of blasphemy onto the masses!
Line-up:
Paul Ledney: drums, vocals