BEHEMOTH mastermind Nergal says "we are so f***ed up as human beings", talking about why people seem to drawn to darkness so much in fifth part of the official »ILYAYD« interview series.
"It doesn't get more blasphemous than this," declares BEHEMOTH mastermind Nergal, about the band's upcoming album, »I Loved You At Your Darkest« – due out October 5th via Nuclear Blast (Europe) / Metal Blade Records (North America). While it certainly seems an unlikely title for a black metal band, its origin might surprise fans even more than the words themselves. "It's a verse from the Bible," Nergal reveals. "It's actually a quote from Jesus Christ himself. For BEHEMOTH to use it as the basis of our record, it's sacrilege to the extreme."
A crushing salvo of black metal majesty replete with hellish riffs, thundering drum cannonades and soaring liturgical choirs reminiscent of classic horror cinema, »I Loved You At Your Darkest« is the group's most dynamic record yet: extreme and radical on one hand, but also more rock-oriented than any other BEHEMOTH release.
This October/November, BEHEMOTH will hit the road across North America to headline the "Ecclesia Diabolica America 2018 e.v." tour, featuring special guests AT THE GATES and WOLVES IN THE THRONE ROOM. This must-see show will also make its way to Europe in January/February 2019, to follow-up the band's festival appearances this month. See below for all dates!
ICYMI:
Episode 1 ('God=Dog'): https://youtu.be/pxmijeqkFiU
Episode 2 (Cover/Artwork):https://youtu.be/x9SrlcbJ3II
Episode 3 ('Wolves Ov Siberia'): https://youtu.be/UNObEyGOsXE
Episode 4 (Provocation): https://youtu.be/joPot91iGm4
'God=Dog' music video: https://youtu.be/Sf5GmhffA48
'Wolves Ov Siberia' music video: https://youtu.be/g7yxjTcM7Bs
Produced by the band themselves, with drum co-production by Daniel Bergstrand (MESHUGGAH, IN FLAMES), mixing by Matt Hyde (SLAYER, CHILDREN OF BODOM) mastering by Tom Baker (NINE INCH NAILS, MARILYN MANSON), and a 17-piece Polish orchestra arranged by Jan Stoklosa, »I Loved You At Your Darkest« can be pre-ordered digitally now at: http://behemoth.lnk.to/ILYAYD – where the video for the first single, 'God = Dog' (directed by Grupa 13 / http://www.grupa13.com), can also be viewed.
To pre-order the album in various physical formats (see below) – and to order the now available exclusive 'God = Dog' 7″ picture disc – please visit: http://nblast.de/BehemothILYAYD
»I Loved You at Your Darkest« tracklisting
01. Solve
02. Wolves ov Siberia
03. God = Dog
04. Ecclesia Diabolica Catholica
05. Bartzabel
06. If Crucifixion Was Not Enough…
07. Angelvs XIII
08. Sabbath Mater
09. Havohej Pantocrator
10. Rom 5:8
11. We Are the Next 1000 Years
12. Coagvla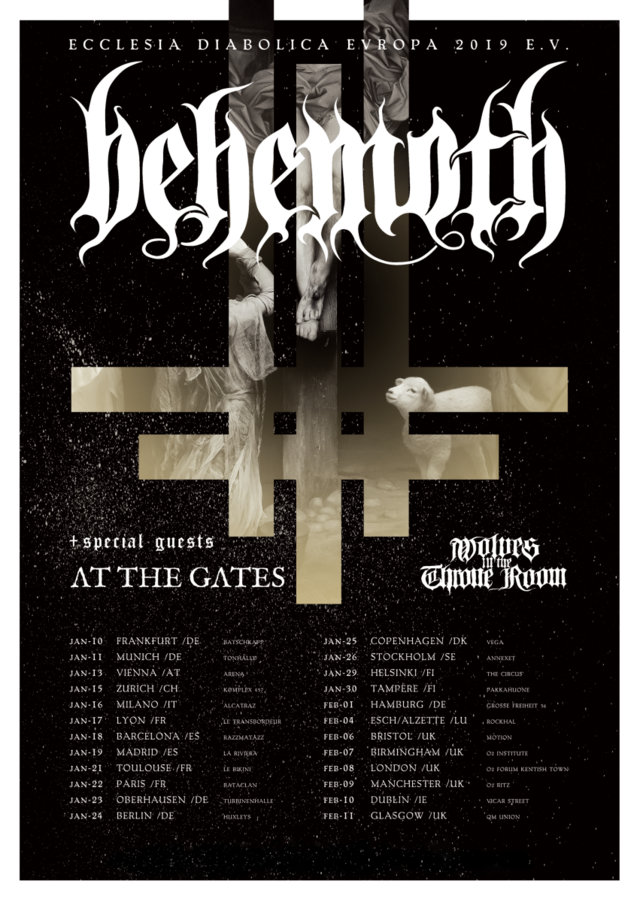 Tickets are available atwww.nuclearblast.de
BEHEMOTH "Ecclesia Diabolica America 2018 e.v." tour dates
w/ AT THE GATES, WOLVES IN THE THRONE ROOM
Oct. 20 – Phoenix, AZ – Van Buren
Oct. 22 – Dallas, TX – House of Blues
Oct. 23 – San Antonio, TX – The Aztec Theatre
Oct. 24 – Houston, TX – House of Blues
Oct. 26 – Atlanta, GA – Masquerade
Oct. 27 – Tampa, FL – Jannus Landing
Oct. 29 – Charlotte, NC – The Underground
Oct. 30 – Philadelphia, PA – The Fillmore
Nov. 1 – Boston, MA – House of Blues
Nov. 2 – Silver Spring, MD – The Fillmore
Nov. 3 – New York, NY – Playstation Theater
Nov. 4 – Montreal, QC – M-Telus
Nov. 6 – Toronto, ON – The Danforth Music Hall
Nov. 7 – Detroit, MI – St. Andrews Hall
Nov. 9 – Chicago, IL – House of Blues
Nov. 10 – Minneapolis, MN – Cabooze
Nov. 11 – Kansas City, MO – The Truman
Nov. 13 – Denver, CO – The Ogden Theatre
Nov. 14 – Salt Lake City, UT – The Depot
Nov. 16 – Calgary, AB – MacEwan Ballroom
Nov. 17 – Edmonton, AB – Union Hall
Nov. 19 – Vancouver, BC – The Commodore Ballroom
Nov. 20 – Seattle, WA – Showbox Market
Nov. 21 – Portland, OR – Crystal Ballroom
Nov. 23 – San Francisco, CA – The Regency Ballroom
Nov. 24 – Los Angeles, CA – The Wiltern Theatre
BEHEMOTH "Ecclesia Diabolica Evropa 2019 e.v." tour dates
w/ AT THE GATES, WOLVES IN THE THRONE ROOM
Jan. 10 – Frankfurt, Germany – Batschkapp
Jan. 11 – Munich, Germany – Tonhalle
Jan. 13 – Vienna, Austria – Arena
Jan. 15 – Zurich, Switzerland – Komplex 457
Jan. 16 – Milano, Italy – Alcatraz
Jan. 17 – Lyon, France – Le Transbordeur
Jan. 18 – Barcelona, Spain – Razzmatazz
Jan. 19 – Madrid, Spain – La Riviera
Jan. 21 – Toulouse, France – Le Bikini
Jan. 22 – Paris, France – Bataclan
Jan. 23 – Oberhausen, Germany – Turbinenhalle
Jan. 24 – Berlin, Germany – Huxleys
Jan. 25 – Copenhagen, Denmark – Vega
Jan. 26 – Stockholm, Sweden – Annexet
Jan. 29 – Helsinki, Finland – The Circus
Jan. 30 – Tampere, Finland – Pakkahuone
Feb. 1 – Hamburg, Germany – Grosse Freiheit 36
Feb. 4 – Esch-sur-Alzette, Luxembourg – Rockhal
Feb. 6 – Bristol, UK – Motion
Feb. 7 – Birmingham, UK – O2 Institute
Feb. 8 – London, UK – O2 Forum Kentish Town
Feb. 9 – Manchester, UK – O2 Ritz
Feb. 10 – Dublin, Ireland – Vicar Street
Feb. 11 – Glasgow, UK – QM Union
BEHEMOTH line-up:
Nergal – vocals & guitars
Orion – bass & vocals
Inferno – drums & percussion
BEHEMOTH online:
http://www.behemoth.pl
http://www.facebook.com/behemoth
http://instagram.com/behemothofficial
http://www.nuclearblast.de/behemoth
http://www.metalblade.com/behemoth