– September 14th, 2023 –
Watch Here: youtu.be/CtDBryaeLw0
Photo by Stephanie Cabral
Knoxville, Tennessee's Whitechapel just released a new music video for the instrumental track "Without You" that leads into the track "Without Us" off the band's 8th studio album Kin. The video was shot and produced by David Brodsky of MyGoodEye Visuals and can be seen here.
Here's what guitarist Alex Wade has to say about the video for "Without You/Without Us":
"We are excited to release our final video from the Kin album cycle for "Without You/Without Us". We worked with longtime friend David Brodsky and MyGoodEye Visuals on bringing this epic battle to life and feel it is a great way to close this album as we begin work on our 9th album."
Lyrics to Without Us
Come to the surface my son, you're not breathing so well
I couldn't stand to lose you another time
But this is not real, we're not here
Don't you understand that we've already lost one another
Please accept reality so I can finally be free
Where will we be in the years to come
I know somewhere inside you is me crying out for help
But I'm right here with you begging you to see the hell we've created
I know it's hard to accept the truth but it's time to let this all go
Let this all go
I'm holding onto your neck
It's taking everything in me to not watch you fade out
Into the sound of nothing
But this is not real, we're not here
Don't you understand that we both have to move on together
Without you, there's no me
There's no us, there's no family
It's so dark
It's so quiet now
Is there anyone out there
Anyone
I'm alone again, just what I'm used to
I'm here
Bow to the ancient god
The portal is shut, locked, no way out
This is home
This isn't home, it's hell with a lovely face
The mask just hides the truth can controls our fate
Take a look around, my friend
That part of our life is dead
So tell me, where will we be in the years to come
I know somewhere inside you is me crying out for help
But I'm right here with you begging you to see the hell we've created
I know it's hard to accept the truth but it's time to let this all go
Let this all go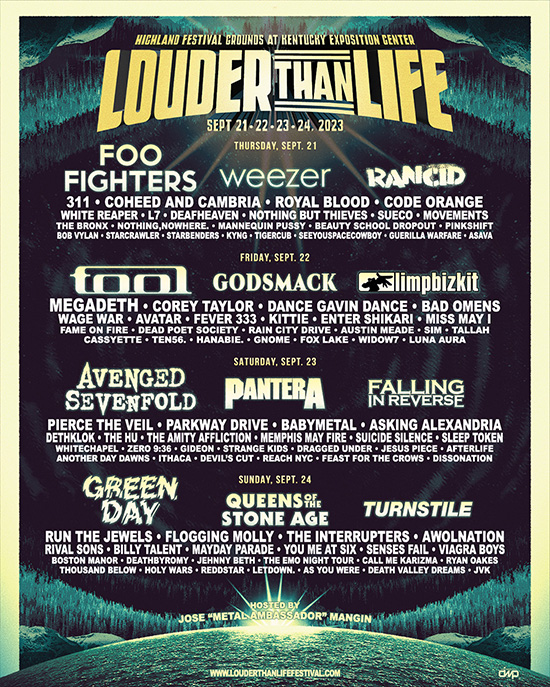 In other news, Whitechapel is set to perform at the Louder Than Life Festival in Kentucky on Saturday, September 23 before heading overseas to tour Europe with Thy Art Is Murder, Fit For An Autopsy, and Spite starting September 29 in the Netherlands and wrapping up on October 28 in Germany. The band will wrap up 2023 with a tour in North America starting in the fall alongside Meshuggah and In Flames then play a hometown Holiday show on December 22 at The Mill & The Mine with Signs of the Swarm, The Guild, and Sidious as support. Tour dates below!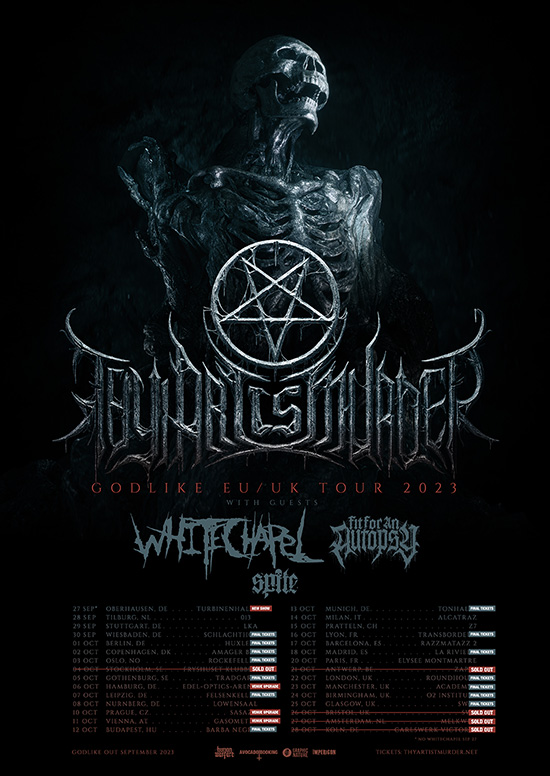 Europe/UK
THY ART IS MURDER, WHITECHAPEL, FIT FOR AN AUTOPSY, SPITE, GODLIKE
9-28-23 Tilburg, Netherlands 0 1 3
9-29-23 Stuttgart, Germany LKA
9-20-23 Wiesbaden, Germany Schlachthof
10-01-23 Berlin, Germany Huxleys
10-02-23 Copenhagen, Denmark Amager Bio
10-03-23 Oslo, Norway Rockefeller
10-04-23 Stockholm, Sweden Fryshuset Klubben Arenan
10-05-23 Gothenburg, Sweden Trädgår'n
10-06-23 Hamburg, Germany Edel-Optics-Arena
10-07-23 Leipzig, Germany Felsenkeller
10-08-23 Nürnberg, Germany Löwensaal
10-10-23 Prague, Czech Rep Roxy
10-11-23 Wien, Austria Arena
10-12-23 Budapest, Hungary Barba Negra
10-13-23 München, Germany Tonhalle
10-14-23 Milan, Italy Alcatraz
10-15-23 Pratteln, Switzerland Z7
10-16-23 Lyon, France Transbordeur
10-17-23 Barcelona, Spain Razzmatazz 2
10-18-23 Madrid, Spain La Paqui
10-20-23 Paris, France Elysée Montmartre
10-21-23 Antwerp, Belgium Zappa
10-22-23 London, UK Roundhouse
10-23-23 Manchester, UK Academy 1
10-24-23 Birmingham, UK o2 Institute
10-25-23 Glasgow, UK SWG3
10-26-23 Bristol, UK SWX
10-27-23 Amsterdam, Netherlands Melkweg
10-28-23 Köln, Germany Carlswerk Victoria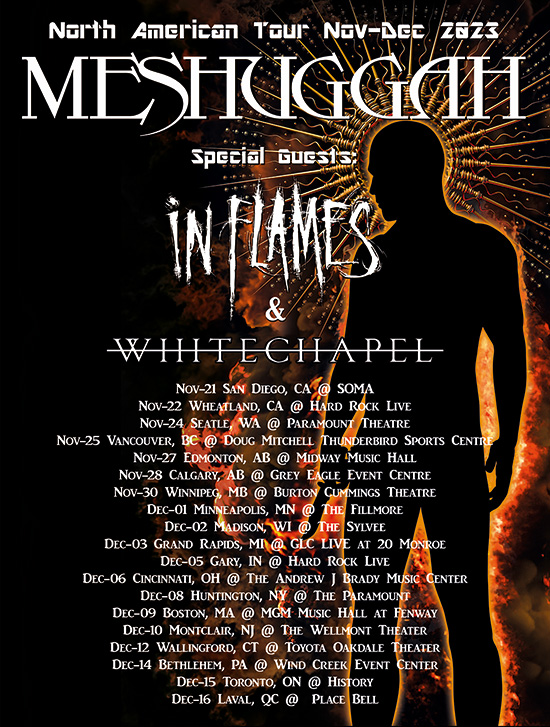 North America
MESHUGGAH, IN FLAMES, WHITECHAPEL
11-21-23 San Diego, CA SOMA
11-22-23 Wheatland, CA Hard Rock Live Sacramento
11-24-23 Seattle, WA Paramount Theatre
11-25-23 Vancouver, BC Doug Mitchell Thunderbird Sports Centre
11-27-23 Edmonton, AB Midway Music Hall
11-28-23 Calgary, AB Grey Eagle Event Centre
11-30-23 Winnipeg, MB Burton Cummings Theatre
12-01-23 Minneapolis, MN The Fillmore Minneapolis presented by Affinity Plus
12-02-23 Madison, WI The Sylvee
12-03-23 Grand Rapids, MI GLC Live at 20 Monroe
12-05-23 Gary, IN The Hard Rock Live Northern Indiana
12-06-23 Cincinnati, OH The Andrew J Brady Music Center
12-08-23 Huntington, NY The Paramount
12-09-23 Boston, MA MGM Music Hall at Fenway
12-10-23 Montclair, NJ The Wellmont Theater
12-12-23 Wallingford, CT Toyota Oakdale Theater
12-14-23 Bethlehem, PA Wind Creek Event Center
12-15-23 Toronto, ON HISTORY
12-16-23 Laval, QC Place Bell **w/ Meshuggah, In Flames, Voivod
Hometown Holiday Show
WHITECHAPEL, SIGNS OF THE SWARM, THE GUILD, SIDIOUS
12-22-23 Knoxville, TN The Mill & The Mine
Get Kin on Digital/Streaming, CD, Double LP, or Special Edition LP HERE.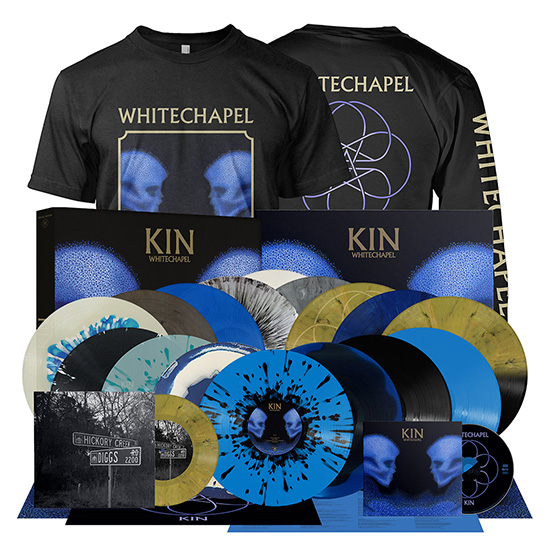 Double LP: Double LP gatefold with insert, poster and download card. Etching on side 4
CD: Digi CD with 12 page booklet
Limited edition: 2 LP gatefold with etching on side 4, insert, and poster (exclusive color: Gold). Hickory Creek (Acoustic) 7″, 15 years of Whitechapel photobook
About the band:
At this stage in the game, the name Whitechapel commands respect. Already sitting on one of the most enviable catalogs in contemporary metal, in 2019 they dropped The Valley, showcasing a confident evolution in their sound and standing as a true landmark release that sets a new standard for the genre. "To me, it was like the stars aligning for us to create our almost perfect record in regard to songwriting, vocal performance, the mix and master, and the artwork," says guitarist Alex Wade. "We like to look at our albums as chapters of our career, and that is one chapter I will never forget. I think it really solidified that we can embrace a new sound, and if we execute it properly, then the fanbase is going to support and enjoy it." In 2021, they returned with that album's successor, the mighty Kin, which is an even more dynamic and diverse collection, further advancing the band's sound into new territory without losing sight of what brought them to this point. "I feel with every album, we learn what worked best on the last one and try to utilize that in our writing. Early in the writing, there was some discussion of the album being like 'The Valley' part II, not literally called that, but in how the songs sound and flow through it. It's very much a storytelling type record like 'The Valley' was," adds vocalist Phil Bozeman, "Musically, we just want to create what we vibe with at the given moment. We write music with how we feel and not what is expected of us, while lyrically the idea of continuing from the story of 'The Valley' was always the goal."
"For a generation of fans, Whitechapel are the most legitimately brutal band of the deathcore movement" – Kerrang!
"Their music attacks from the first track, and they draw you in, commanding your attention with their performance and presence. This is how I've always felt about Whitechapel" – Metal Nation
"Whitechapel has certainly become, in my opinion, one of the more unique metal bands still making music today" – Metal injection
Whitechapel is:
Vocals: Phil Bozeman
Lead Guitar: Ben Savage
Rhythm Guitar: Alex Wade
Guitar: Zach Householder
Bass: Gabe Crisp
Follow:
https://www.whitechapelband.com
https://www.metalblade.com/whitechapel
https://twitter.com/whitechapelband
https://www.instagram.com/whitechapelband
https://www.youtube.com/WhitechapelTV
https://www.facebook.com/whitechapelband
Buy iTunes Artist Page Artist News