– August 30th, 2023 –
"Miracle Broker" Video / Single Now Playing + Pre-orders Available
Photo by Brian Vogel
Watch / stream WAR CURSE's "MiracleBroker" HERE.
Ohio-based old-school thrash outfit WAR CURSE will unleash their third full-length, Confession, on October 20th via Blacklight Media!
Having built a devout fan base for their thrash-oriented metallic attack starting with 2015′s Final Days and cemented with 2019′s Eradication, WAR CURSE returns in 2023 a more refined animal. In fact, it could be argued that the ten tracks of Confession stand as WAR CURSE's Black Album, having the courage to move beyond what they're known for and to focus on songwriting, groove, dynamics, and melody, without compromising on muscle one iota.
"We experimented with new sounds, old sounds, took in new influences, old influences, and let the songs come together as organically as possible," notes guitarist Justin Roth. "As far as our current direction, the music we consume is all over the map, a lot of it way outside of the metal sphere. I hear bands doing new, interesting things with their music and I want to be able to do the same with mine. If I lose my thrash card for it, oh well, I'll hand in my battle vest."
With extensive touring plans in 2020 falling apart due to the pandemic, WAR CURSE spent several months in purgatory before deciding to dust off their instruments and start writing a new album. With the uncertainty of not knowing if they would ever get a chance to play music again, it was speculated that this could be the band's swan song. With the world in a strange place, motivation came and went, reflecting the tumultuous day to day change in information. This led to the writing process taking a year however it was time well spent.
"We demo recorded every song two or three times, picked them apart, edited them, and then rehearsed them in a room together. We allowed the process of collaboration and experimentation to take us wherever the wave carried us. Compared to previous releases, we were a lot more critical of ourselves during the writing and recording of this album. We set out to make an album in the truest sense of the word, not just a collection of songs."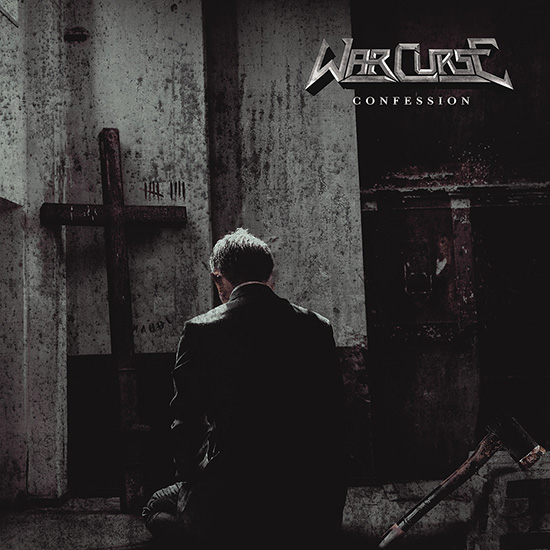 This is very much apparent when listening to Confession, from the agitated, muscular title track with its widescreen chorus, to the driving "Power Of The Powerless," or the equal parts triumphant and steamrolling "Sowing Division," every track standing on its own while taking its place in the overall picture. A major aspect in pushing their sound forward is the vocal contributions of Blaine Gordon, who emanates confidence in ways he has not previously. "On Eradication, Blaine replaced our previous vocalist in the studio, on very short notice, and mimicked what was already written. This was the first time he got to add his creative input. He pushed us in a more melodic direction, and [guitarist Joshua] Murphy and I backed him up with guitar parts that felt harmonious with his vision. Likewise, when a part called for heavy or dirty vocals, Blaine returned the favor tenfold."
In advance of the release of Confession, today the band unveils the record's first single, "Miracle Broker," and its accompanying video. A hard hitting, vibey, melodic stampede that throws back to the band's hardcore roots, "Miracle Broker" takes on shady televangelists. Manipulative figureheads create mass psychosis through masterfully crafted brainwashing campaigns and suckers fall into the trap.
Elaborates Roth, "'Miracle Broker' is an unapologetic knife to the chest of corrupt religious figureheads, masquerading as modern day Gods. For years I've tried to disguise my hardcore roots, keeping our songwriting far away from outside influences. 'Miracle Broker' is the result of breaking that rule and writing a song for myself, not for an audience. It's moody, it's heavy, it gets straight to the point, and it's catchy as all hell. Consider it 'crossover reimagined.'"
Watch WAR CURSE's "Miracle Broker" video at THIS LOCATION.
All songs on Confession were recorded, mixed, and mastered by Neil Tuuri at Amish Electric Chair Studios. The album art, layout, design, and photography were handled by Justin Roth. As an added bonus, the record includes a cover of Grip Inc.'s "Rusty Nail." Notes Roth, "Covering 'Rusty Nail' was our way of honoring our former bassist Jason Vie Brooks (Grip Inc., Exhorder). Blaine was tasked with filling the massive shoes of late Grip Inc. vocalist Gus Chambers, and the remaining band members agree that he did so with flying colors."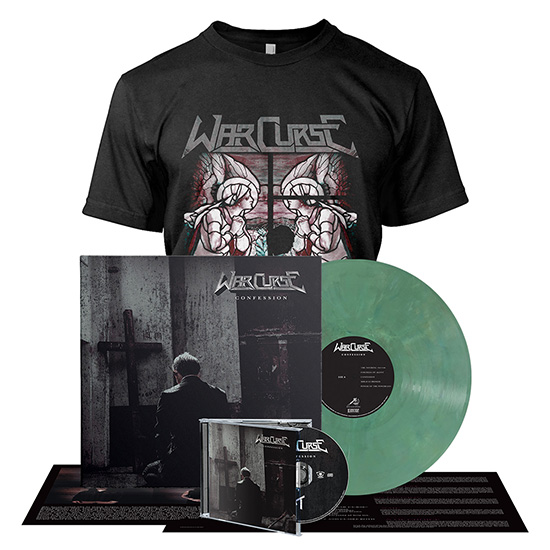 Confession will be released on CD, LP, and digitally. Find pre-orders at: blacklightmediarecords.com/warcurse
Confession Track Listing:
1. The Nothing (That is Me)
2. Fortress Of Agony
3. Confession
4. Miracle Broker
5. Power Of The Powerless
6. The Convoy
7. Return To Dust
8. Sowing Division
9. Rusty Nail * Grip Inc. cover
10. Illusion Of Choice
WAR CURSE:
Blaine Gordon – vocals
Justin Roth – guitar
Joshua Murphy – guitar
James Goetz – drums
Johnnie Wallace – bass
https://www.warcurse.com
https://www.facebook.com/warcursemetal
https://warcursemetal.bandcamp.com