Norwegian black 'n roll masters VREID are now streaming their new opus 'Lifehunger' in full. The record is slated for worldwide release on Friday, September 28.
Listen to the full album via Heavy Metal (Norway) and No Clean Singing (US) HERE.
VREID will embark on a co-headliner European tour with Finnish melodic death metal legends KALMAH and special guests SLEGEST. A full list of tour dates can be found below.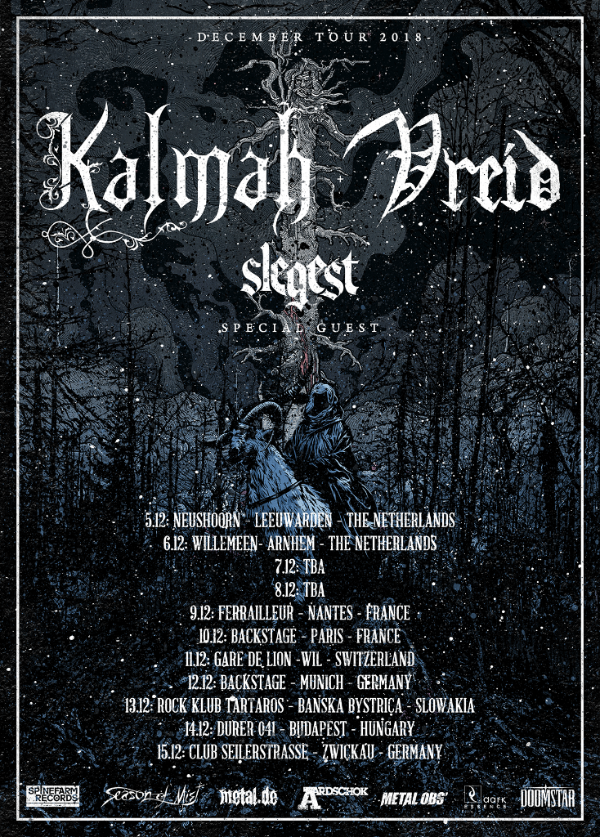 VREID
with GAAHLS WYRD and ENSLAVED
03 Nov 18 Oslo (NO) Parkteateret
15 Nov 18 Hamar (NO) Gregers
23 Nov 18 Kristiansand (NO) Kick
24 Nov 18 Stavanger (NO) Folken
30 Nov 18 Bergen (NO) USF Verftet
01 Dec 18 Trondheim (NO) Byscenen
VREID
With KALMAH and SLEGEST
05 Dec 18 Leeuwarden (NL) Neushoorn
06 Dec 18 Arnhem (NL) Willemeen
09 Dec 18 Nantes (FR) Ferrailleur
10 Dec 18 Paris (FR) Backstage
11 Dec 18 Wil (CH) Gare de Lion
12 Dec 18 Munich (DE) Backstage
13 Dec 18 Banská Bystrica (SK) Rock Club Tartaros
14 Dec 18 Budapest (HU) Dürer 041
15 Dec 18 Zwickau (DE) Club Seilerstraße
The coverartwork for 'Lifehunger', which can be viewed together with the album details below.
Track-list
1. Flowers & Blood (1:50)
2. One Hundred Years (5:39)
3. Lifehunger (5:36)
4. The Dead White (4:59)
5. Hello Darkness (4:39)
6. Black Rites in the Black Nights (6:26)
7. Sokrates Must Die (3:29)
8. Heimatt (6:01)
Total playing time: 38:39
VREID were formed in 2004. The Norwegian metal brigade rose from the ashes of WINDIR after the tragic perishing of the "Sognametal" legends with the declared mission of exploring new musical paths.
The Norsemen proved true to their words and have so far delivered 7 albums and one DVD, which each received high praise from critics and fans alike.VREID chose a course of constant evolution that is marked by thematically denoted phases regarding their often historically inspired lyrics.
This became particularly clear with albums 'I Krig' (2007) and 'Milorg' (2009), which both revolved around concepts dealing with resistance and liberation of Norway during World War II. With their following three records, VREIDreturned to their Norse roots, especially on latest full-length, 'Sólverv' which received high critical acclaim in 2015.
VREID have hammered out their success partly by being a heavily touring band. The four-piece performed more than 500 shows in 25 countries so far. Their everlasting march to conquer new territories has led the Norwegians to headline tours in Europe, North America, Japan, and India.
VREID's style is often referred to as black 'n roll and Metal Hammer UK described their music as "a unique time travel in metal" as elements of 70's rock, 80's classic metal, and Norwegian black metal are all clearly audible.
Now with eighth album 'Lifehunger', black 'n roll is back! With eight brand new tracks, VREID are ready for the next chapter.
Style: Norwegian Black 'n Roll
www.facebook.com/vreidofficial
Line-up
Sture: Vocals & guitars
Strom: Guitars
Steingrim: Drums
Hváll- Bass and keys
Guest Musician
Aðalbjörn 'Addi' Tryggvason (SÓLSTAFIR): vocals on "Hello Darkness"
Recording: Nabolaget studio
Producer: Jarle Hváll Kvåle / Anders Nordengen
Mix: Anders Nordengen, Nabolaget studio
Mastering: Ruben Willem
Cover art: Remi Juliebø of Deformat