– June 8th, 2021 –
Tickets on-sale now!
This September/October, The Black Dahlia Murder will hit the road for a North American headlining tour, featuring After The Burial, Carnifex, Rivers of Nihil, and Undeath as openers. Dubbed "Up From The Sewer Tour 2021″, this will be the first trek in support of The Black Dahlia Murder's critically acclaimed album, Verminous, released in April 2020.
Trevor Strnad (vocals) comments: "IS THIS REAL LIFE? Yes, thankfully! We are beyond excited (and a little emotional) to finally announce our 'Verminous'-themed 'Up From The Sewer Tour 2021′! It's been a long, torturous year full of disappointments and cosmic cockblocks, and seeing this tour come into fruition is the light at the end of the tunnel we've been eager to share with you all. We are honored to have assembled our dudes in After The Burial, Carnifex, Rivers of Nihil and Undeath for an evening of guaranteed fun, friendship, and ferocious heavy metal music. Get tickets now! Everyone is eager to be back at concerts and the tickets WILL MOVE FAST. Don't be left out in the cold!"
See below for all dates! An exclusive pre-sale via Blabbermouth.net and Knotfest.com has now begun – grab your ticket at:
–https://knotfest.com – use code KFSEWER at checkout!
–https://www.blabbermouth.net – use code BBMSEWER at checkout!
The Black Dahlia Murder "Up From The Sewer Tour 2021″
w/ After The Burial, Carnifex, Rivers of Nihil, Undeath
Sept. 3 – Chicago, IL @ Concord Music Hall
Sept. 4 – Minneapolis, MN @ The Fillmore
Sept. 5 – Milwaukee, WI @ The Rave
Sept. 7 – Grand Rapids, MI @ The Intersection
Sept. 8 – Fort Wayne, IN @ Piere's
Sept. 9 – Sauget, IL @ Pop's
Sept. 10 – Lawrence, KS @ Granada Theater
Sept. 11 – Denver, CO @ Summit Music Hall
Sept. 12 – Salt Lake City, UT @ The Complex
Sept. 14 – Seattle, WA @ El Corazon
Sept. 15 – Portland, OR @ Bossanova Ballroom
Sept. 17 – Berkley, CA @ UC Theater
Sept. 18 – Los Angeles, CA @ The Belasco
Sept. 19 – San Diego, CA @ House of Blues
Sept. 21 – Las Vegas, NV @ House of Blues
Sept. 22 – Mesa, AZ @ Nile Theater
Sept. 24 – Dallas, TX @ GMBG
Sept. 25 – Austin, TX @ Come And Take It Live
Sept. 26 – Houston, TX @ Warehouse Live
Sept. 28 – Atlanta, GA @ Center Stage
Sept. 29 – Greensboro, NC @ Arizona Pete's
Sept. 30 – Baltimore, MD @ Baltimore Soundstage
Oct. 1 – Columbus, OH @ King of Clubs
Oct. 2 – Pittsburgh, PA @ Roxian Theater
Oct. 3 – Cleveland, OH @ House of Blues
Oct. 5 – Detroit, MI @ St. Andrews Hall
Oct. 6 – Toronto, ON @ Phoenix Concert Hall
Oct. 7 – Montreal, QC @ Club Soda
Oct. 8 – Worcester, MA @ The Palladium
Oct. 9 – Sayreville, NJ @ Starland Ballroom
Oct. 10 – New York, NY @ Irving Plaza
As The Black Dahlia Murder's most dynamic, rousing and emotional release to date, Verminous achieves this without compromising one iota of heaviness. Stream and purchase the record now at: metalblade.com/tbdm
"Virtually every band claims that their new record is heavier, more melodic and more dynamic than the last. For once, 'Verminous' fulfills that promise. This is a deeper and smarter realization of the Michigan crew's tried and tested formula, and one blessed with several of the finest songs they have ever written…File next to 'Nocturnal' and 'Ritual' as an unquestionable career peak." – Blabbermouth (USA)
"…['Verminous' is] not JUST another great Black Dahlia Murder album. It's yet more evidence that The Black Dahlia Murder are truly in a league of their own. Do NOT take a gift like this for granted." – Metal Sucks (USA)
"…'Verminous' is one of the sharpest, smartest, and most consistent collections of songs which The Black Dahlia Murder have produced to date." – No Clean Singing (USA)
"The result is a really great Melo Death album that will delight genre fans!" – Legacy Magazine (Germany), 13/15 points
"In general, you have never experienced TBDM in such a creative and versatile way, but still with a core of roughness and love for death metal!" – Slam Magazine (Austria), 10/10 points
"So, in the end you get a typical, i.e. musically excellent, album with a slight twist – which also sounds great!" – Fuze Magazine (Germany)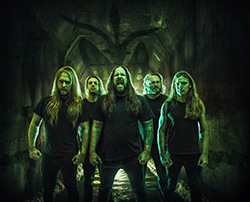 "Since guitarist Brandon Ellis (also Arsis, ex-Sylosis, etc.) joined The Black Dahlia Murder in 2016, the US Death Metal players have been moving on another level. Ellis has definitely given the gang around Rampensau Trevor Strnad a new quality with his outstanding, highly technical guitar playing." – Rock Hard Magazine (Germany), 9/10 points
Photo credit: David E. Jackson
The Black Dahlia Murder line-up:
Trevor Strnad – Vocals
Brian Eschbach – Guitars
Max Lavelle – Bass
Alan Cassidy – Drums
Brandon Ellis – Guitars
The Black Dahlia Murder online:
https://www.tbdmofficial.com
https://www.facebook.com/theblackdahliamurderofficial
https://twitter.com/bdmmetal
https://www.instagram.com/theblackdahliamurder_official
Buy iTunes Artist Page Artist News