Sydney based metal phenomenon Temtris has signed a record contract for their 6th studio album, that will be released in April 2021 with Wormholedeath Records from Italy. The album will be distributed through the label's worldwide connection with Aural Music Group (AMG) and U.S.A. company, The Orchard Music Inc (Sony Music Ent.). The April release will also include an exclusive Japanese pressing.
"Temtris is very excited to be offered the opportunity to work with Carlo and his team at Wormholedeath Records. This will be a chance for Temtris to reach a whole new market across the globe with Wormholedeath having companies operating in Italy, USA, Japan and Norway. Temtris would like to thank all our metal family and fans in Australia and around the world for supporting us on our journey so far. We look forward to seeing where this new chapter takes us and hope you all join us on the ride."
Horns Up,
Genevieve, Fox and the Temtris crew!
ABOUT THE BAND
Temtris formed in the year 2000 in Sydney with Wayne Campbell (Formally from Mortal Sin) on Drums , Anthony Fox on Guitar and Genevieve Rodda on Vocals. Temtris was later joined with Lew Smith on Guitar to record the first album Threshold in 2002.
In 2006 Temtris was back in the studio to record the second album Masquerade, released with worldwide distribution through Battlegod productions. After few line up changes, Temtris continued to tour up and down the East Coast whilst writting material for the 3rd Album. In 2010, recording started on the 3rd Album Shallow Grave and the band had also time to tour across Australia , playing shows in Adelaide, Melbourne and Brisbane. In 2014 the 3rd album was finally released and launched at Sydneys Valve Bar on the 28th march 2014. Temtris was proud to announce it had the support for "Accept" at the Factory theatre in Sydney in November of 2014. Temtris released the 4th studio album Enter the asylum in April of 2016 and toured it across Australia with a fantastic response.
In winter of 2018 they released the single RUN and has had an amazing response with over 12,000 views in 6 months. In October Temtris released Rapture, the 5th studio album. This album received amazing reviews worldwide and received many album of the year nominations for Australian release of the year. Rapture was toured across Australia in 2018.
2019 saw Temtris play with bands such as Loudness, Ensiferum, Girlschool, Tank , Raven, Metal Church, Marty Friedman and a one off Acoustic show with Michael Sweet. In 2020 Temtris headlined Smashfest in NZ and opened the show for Geoff Tate in Sydney. Temtris hit the studio in January to record our next single Forever. Temtris brought you the new film clip on June 20th which was filmed at Bombo Quarry and has received amazing reviews and plays in the first 24 hours of being released. Stay tuned for the next chapter.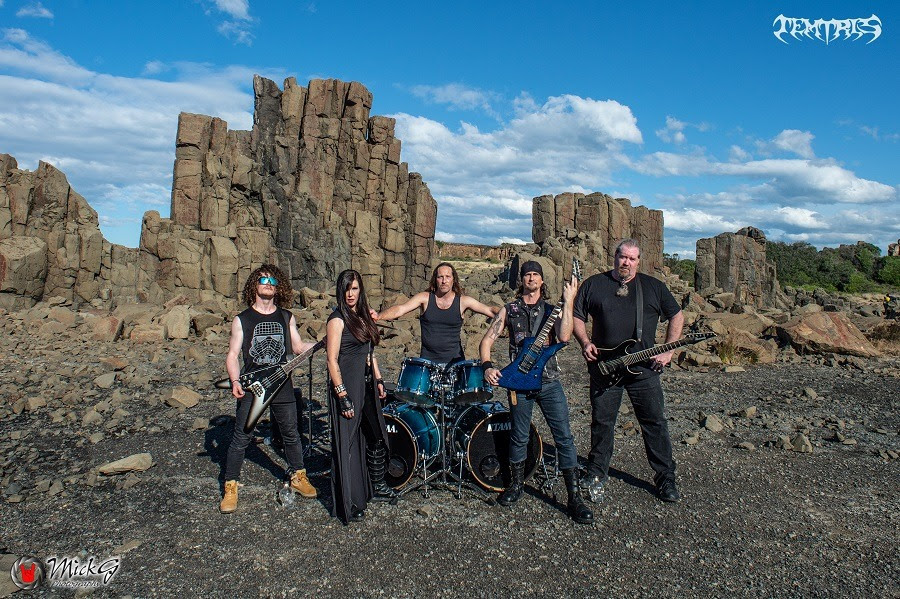 Band members:
Anthony Fox – Lead Guitar
Genevieve Rodda – Lead Vocals
Anthony Hoffman – Lead Guitar
Nick Wilks – Bass
Nicholas Bolan – Drums