SABATON recently released a new live version of the album track 'The Attack Of The Dead Men' featuring RADIO TAPOK, which will be physically released on July, 10th and they announce even more new tour dates for their tour early next year in Sweden.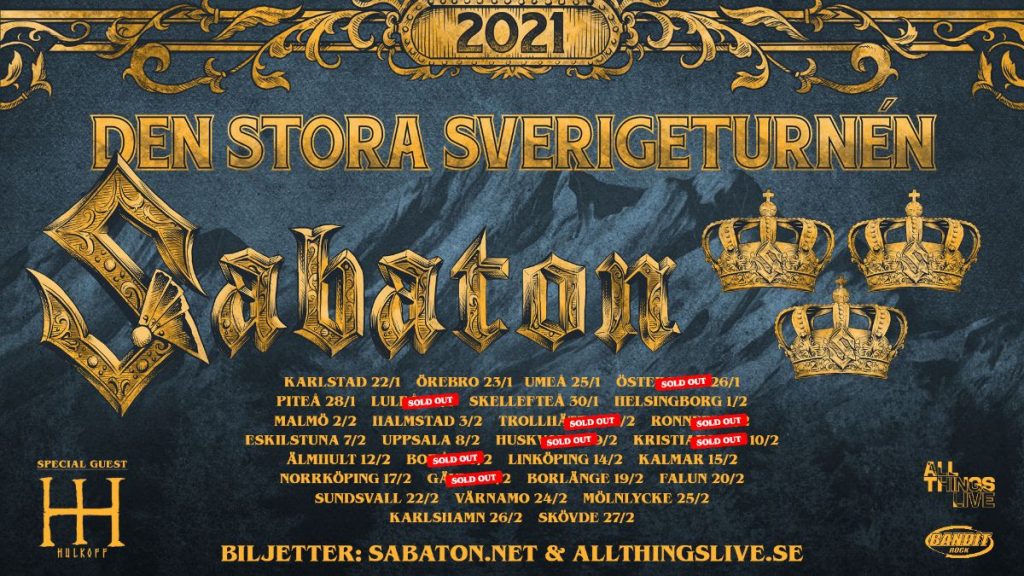 Pär Sundström comments:
"We realized that 23 shows were not enough to cover Sweden properly, so we decided to add a few more. The tour has now grown to 29 dates, making it our largest tour in Sweden so far and probably the largest tour by any metal band. Several of the already announced shows had sold out in the first week, and we are so damn happy and proud to see your enthusiasm about this tour!".
SABATON live in Sweden 2021:
22.01.              SE        Karlstad – Nöjesfabriken
23.01.              SE        Örebro – Conventum
25.01.              SE        Umeå  – Idun, Folkets hus
26.01.              SE        Östersund – Folkets hus
28.01.              SE        Piteå – Pite Havsbad
29.01.              SE        Luleå – Kulturens hus
30.01.              SE        Skellefteå – Folkparken
01.02.              SE        Helsingborg – Sundspärlan
02.02.              SE        Malmö – Slagthusetmmx
03.02.              SE        Halmstad – Live
04.02.              SE        Trollhättan – Folkets Hus
06.02.              SE        Ronneby – Klubb Ron
07.02.              SE        Eskilstuna – Lokomotivet
08.02               SE        Uppsala – Uppsala Konsert & Kongress *NEW
09.02.              SE        Huskvarna – Folkets Park
10.02.              SE        Kristianstad – Södra Kasern
12.02.              SE        Älmhult – Arenan
13.02.              SE        Borås – Ahaga
14.02.              SE        Linköping – Konsert & Kongress
15.02.              SE        Kalmar – Kalmarsalen
17.02.              SE        Norrköping – Flygeln
18.02.              SE        Gävle – Gasklockorna
19.02.              SE        Borlänge – Galaxen
20.02.              SE        Falun – Magasinet
22.02.              SE        Sundsvall – Avenyn *NEW
24.02.              SE        Värnamo – Gummifabriken *NEW
25.02.              SE        Mölnlycke – Råda Rum *NEW
26.02.              SE        Karlshamm – Bellevueparken *NEW
27.02.              SE        Skövde – Valhall *NEW
Tickets are available now on https://www.sabaton.net/tour/
New dates for SABATON in Russia and Belarus:
07.11.      RUS   Chelyabinsk – Entertainment Galaxy
08.11.      RUS   Yekaterinburg – Tele Club
10.11.      RUS   Ufa – Tinkoff Hall
12.11.      RUS   Samara – Zvezda
14.11.      RUS   Volgograd – Vs Club
16.11.      RUS   Nizhny Novgorod – Milo
17.11.      RUS   Nizhny Novgorod – Milo
19.11.      RUS   Voronezh – Arena Hall
20.11.      RUS   Voronezh – Arena Hall
21.11.      RUS   Rostov-on-Don – Krop Arena
23.11.      RUS    Krasnodar – Krop Arena
24.11.      RUS    Stavropol – Major
26.11.      BLR    Minsk – Falcon Club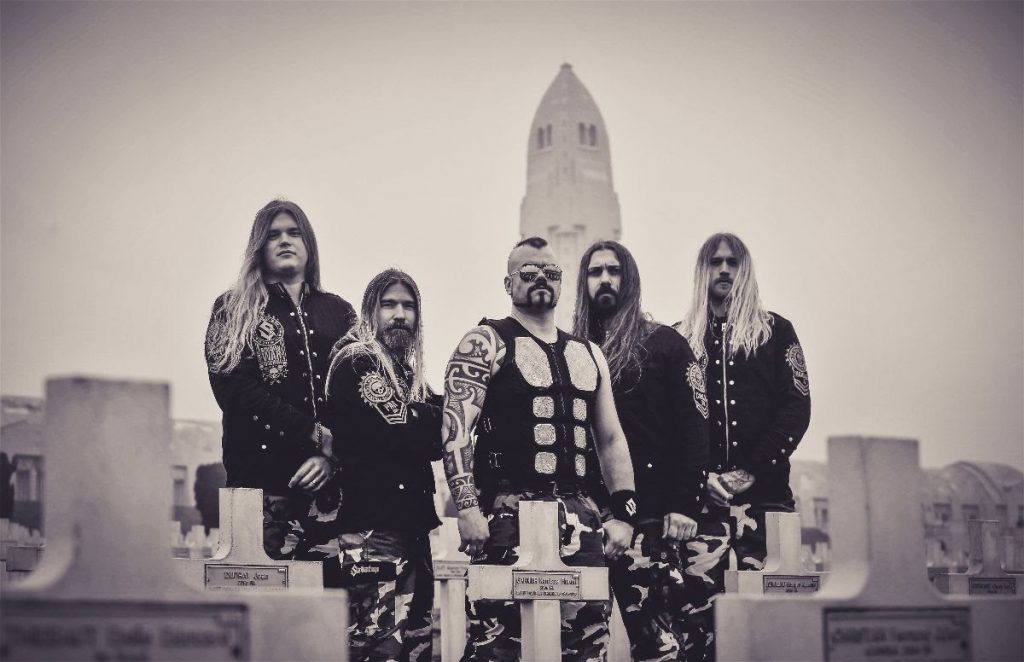 Follow Sabaton:
www.sabaton.net
www.facebook.com/sabaton
www.nuclearblast.de/sabaton