'NON SERVIAM: THE OFFICIAL STORY OF ROTTING CHRIST' is A full-length book created by front-man Sakis Tolis and Dayal Patterson (author of 'Black Metal: Evolution Of The Cult', 'The Cult Never Dies Vol. One' and 'Into The Abyss'), and will be released via  Cult Never Dies in late November 2018.
The book will contain extensive interviews with Themis Tolis, Jim Mutilator, Morbid, George Tolias, George Emmanuel and members of bands including Watain, Mayhem, Enslaved, Moonspell, Blasphemy, Mystifier, Septicflesh, Behemoth, Macabre Omen, Immolation and more.
Pre-orders of the book and more info can be found here
ROTTING CHRIST have previously announced new European tour dates in support of the mighty WATAIN this November.
Front-man Sakis Tolis comments: "Hey there brothers! On behalf of Rotting Christ, I would like to announce our very last 'Rituals' worldwide tour. A Special 20 shows rampage, with  two of the most Unholy Black Metal Hordes out there! See you at the Gates of Hell together with Watain & Profanatica and we promise nothing less than a hell-of-a-show with a very special set-list!"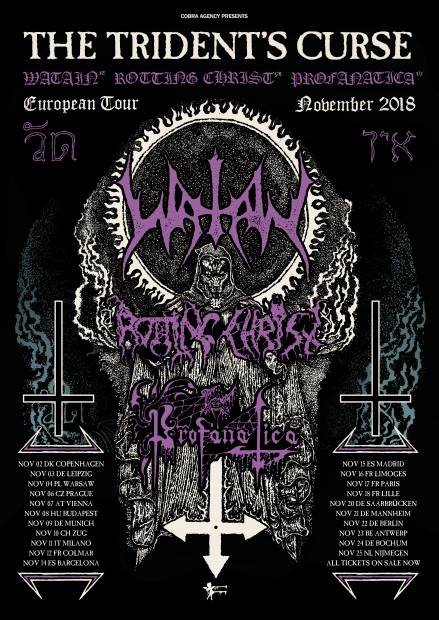 ROTTING CHRIST
+WATAIN +PROFANATICA
02 Nov 18 Copenhagen (DK) Byhaven Pumpehuset
03 Nov 18 Leipzig (DE) Hellraiser
04 Nov 18 Warsaw (PL) Progresja
06 Nov 18 Prague (CZ) MeetFactory
07 Nov 18 Budapest (HU) Barba Negra Music Club
09 Nov 18 Munich (DE) Backstage
10 Nov 18 Zug (CH) Chollerhalle
11 Nov 18 Trezzo sull 'Adda (IT) Live Club
12 Nov 18 Colmar (DE) Le Grillen
14 Nov 18 Barcelona (ES) Razzmatazz 2
15 Nov 18 Madrid (ES) Chango
16 Nov 18 Limoges (FR) Centre Culturel John Lennon
17 Nov 18 Paris (FR) La Trabendo
18 Nov 18 Bucharest (RO) Metal Gates
20 Nov 18 Saarbrücken (DE) Garage
21 Nov 18 Mannheim (DE) MS Connexion Complex
22 Nov 18 Berlin (DE) Astra Kulturhaus
23 Nov 18 Antwerpen (BE) TRIX
24 Nov 18 Bochum (DE) Matrix
25 Nov 18 Nijmegen (NL) Doornroosje
ROTTING CHRIST will be playing in support of their latest release 'Their Greatest Spells'.
ROTTING CHRIST
 have reached another peak in their long career that now spans over more than three decades. The Greeks have literally stood the test of time. With a steady core line-up and their well-honed live delivery, 
ROTTING CHRIST 
are filling concert halls and reap enthusiastic crowd reactions wherever they go. This demonstration of love from their followers is not just driven by nostalgia as the band has managed to evolve and grow, while staying relevant beyond the classics with their highly acclaimed latest albums such as 'Aealo' (2010), 'Κατά τον δαίμονα εαυτού' (2013), and 'Rituals' (2016).
With more than 30 years, 12 studio albums, a dozen EPs, singles and split releases, as well as more than 1.250 shows under their belt, it is about high time to take a retrospective look at this band's fascinating musical development by picking a select choice of key tracks covering the many facets of ROTTING CHRIST that have sparkled over the years. With such a massive catalogue such an undertaking will always lead to controversy about certain additions as well as omissions from the final list, but the involvement of frontman Sakis Tolis in this extremely difficult task ensures that the result is at least relevant.
ROTTING CHRIST were founded by Sakis Tolis and his brother Themis in the year 1987. Starting out on a basis of death and grind, the Greeks had already embarked on a darker musical journey by the time their debut full-length 'Thy Mighty Contract' (1993) was revealed. On the following seven albums covering a ten-year period from 'Non Serviam' (1994) to 'Sanctus Diavolos' (2004), ROTTING CHRIST steadily defined their own distinct style by experimenting with elements from death, heavy, and gothic metal without betraying their black roots. At the same time, the band went from underground heroes to headliner status. With the highly acclaimed ninth album, 'Theogonia' (2007), the Greek stalwarts added an unmistakable native element to their sound, which has remained with them as a signature trademark ever since. Exploring the mythical legacy of cultures around the globe let to ROTTING CHRIST's massively successful latest release, 'Rituals'. With 'Their Greatest Spells', the Greek metal icons musically revisit their exciting legacy and even contribute a brand new track entitled "I Will Not Serve" to connect their past with the present.
Line-up 
Sakis: vocals, guitars
Themis: drums
Van Ace: bass
George: guitars