Washington D.C. Crossover Thrashers RED DEATH continue to promote the release of their third studio album and Century Media Records debut "Sickness Divine" with a next European tour in October/November 2020 alongside Midnight and Hellripper. Here is a list of the dates: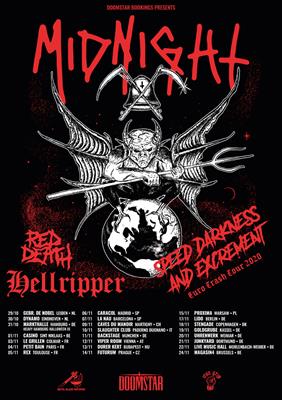 MIDNIGHT, RED DEATH & HELLRIPPER – European Tour 2020:
29.10.2020 Leiden (The Netherlands) – Gebr. De Nobel
30.10.2020 Eindhoven (The Netherlands) – Dynamo
31.10.2020 Hamburg (Germany) – Markthalle
01.11.2020 Sint Niklaas (Belgium) – Casino
03.11.2020 Colmar (France) – Le Grillen
04.11.2020 Paris (France) – Petit Bain
05.11.2020 Toulouse (France) – Rex
06.11.2020 Madrid (Spain) – Caracol
07.11.2020 Barcelona (Spain) – La Nau
09.11.2020 Martigny (Switzerland) – Caves Du Manoir
10.11.2020 Paderno Dugnano (Italy) – Slaughter Club
11.11.2020 München (Germany) – Backstage
12.11.2020 Vienna (Austria) – Viper Room
13.11.2020 Budapest (Hungary) – Durer Kert
14.11.2020 Prague (Czech Republic) – Futurum
15.11.2020 Warsaw (Poland) – Proxima
17.11.2020 Berlin (Germany) – Lido
18.11.2020 Copenhagen (Denmark) – Stengade
19.11.2020 Kassel (Gemany) – Goldgrube
20.11.2020 Weimar (Germany) – Uhrenwerk
21.11.2020 Dortmund (Germany) – Junkyard
22.11.2020 Morlenbach-Weiher (Germany) – Live Music Hall
24.11.2020 Brussels (Belgium) – Magasin4
RED DEATH checked in with the following comment about the tour: "We are beyond excited to be returning to Europe!!! We are both very honored and ecstatic about spending a month on the road with Midnight as well. They are one of our favorite bands to see live and they inspire us in that regard. We can't wait to share a stage with them!!!"
Once more produced by Arthur Rizk (Power Trip, Sacred Reich) and with cover art by Timbul Cahoyno (The Black Dahlia Murder, Nocturnus A.D.), RED DEATH's album "Sickness Divine" is a sledgehammer-to-the-skull riff-ride across its 10 annihilating tracks.
Check out the singles off RED DEATH's "Sickness Divine" album:

The album's physical release is available as limited first-pressing Digipak CD with a bonus track (A cover version of "Death Comes Ripping" by Misfits) and a sticker or as Gatefold LP on 180gr. vinyl with poster. "Sickness Divine" can be ordered here: https://RedDeath.lnk.to/SicknessDivine
United by a love for "Master Of Puppets"-era Metallica, "Animosity"-era Corrosion of Conformity, Discharge and the best of 80's Thrash Metal, RED DEATH was born out of a 2013 basement jam session between drummer Connor Donegan (also of Genocide Pact), guitarist Ace Mendoza and frontman Chad Troncale. RED DEATH became an underground favorite with the release of 2015's "Permanent Exile" followed by US gigs and tours with the likes of Power Trip and Obituary. With 2017's "Formidable Darkness" album and a line-up that saw Troncale assume bass and vocal duties as well as the addition of Enforced guitarist Will Wagstaff, Having played shows across North America with the likes of Power Trip, Iron Reagan, Municipal Waste, Exodus, Obituary, Terror and also a European tour with Foreseen last year. RED DEATH proved themselves a force to be reckoned with and 2019 saw the band's return to European stages supporting Cro-Mags prior to the worldwide release of their third full-length album "Sickness Divine" via Century Media Records.
RED DEATH line-up:
Chad Troncale – vocals, bass
Ace Mendoza – guitar
Will Wagstaff – guitar
Connor Donegan – drums
RED DEATH online:
Facebook
Instagram
Twitter
Bandcamp