The legendary compilation "Death Is Just The Beginning" is back! But there's more, a fantastic live package including KATAKLYSM, HYPOCRISY and THE SPIRIT hit the road last week under the banner of the same name. All three bands are represented in this amazing collection.
Canadian death metallers KATAKLYSM have participated with a re-recording of their classic track "The Awakener". HYPOCRISY offered up a cover version of "They Lie" (The Exploited) and THE SPIRIT have provided a track from their NUCLEAR BLAST label debut "Sounds From The Vortex".
Today, NAILED TO OBSCURITY present the trailer to their new song 'King Delusion' which is featured on the compilation – watch the clip here:
Order the compilation here: http://nblast.de/DeathIsJustMMXVIII
Check out the unboxing video of the NB Mailorder-Edition:
https://www.youtube.com/watch?v=05n0Zs6T7T0&feature=youtu.be

Even more highlights can be expected from this release, besides current songs from the likes of  BLEEDING GODS, BRUJERIA, CARCASS, PARADISE LOST and THY ART IS MURDER, "Death Is Just The Beginning" also has lots of rarities to offer. BENEDICTION, MEMORIAM and POSSESSED will certainly destroy your neck muscles with some special demo versions. A couple of Nuclear Blast's new signings will also be making an appearance; Dutch Death/Thrashers BLEEDING GODS, Germany's most interesting dark Melodic Death Metallers NAILED TO OBSCURITY as well as US Progressive/Extreme metallers AENIMUS. Furthermore, the superstar quintet INSIDIOUS DISEASE is back for the first time since 2010 after some line-up changes – and they are back stronger than ever before!
Lovers of cover versions can also get excited for this release. IMMOLATION covers "Morbid Visions" by Sepultura, joined by no one else than Max Cavalera, and DECAPITATED let you hear their interpretation of MESHUGGAH's "Sane".
There are no excuses – the "Death Is Just The Beginning" series is impossible to beat. MMXVIII contains some high-class acts and fantastic newcomers, hoping to win over even more fans to Nuclear Blast's stylistically varied range. Don't miss it, there is a lot to discover!
Tracklisting
01. BENEDICTION – Tear Off These Fucking Wings (demo)
02. KATAKLYSM – The Awakener (re-recorded)
03. HYPOCRISY – They Lie (The Exploited)
04. THE SPIRIT – Illuminate The Night Sky
05. MEMORIAM – The War Rages On (demo)
06. INSIDIOUS DISEASE – Soul Excavation
07. POSSESSED – Abandoned (demo)
08. THY ART IS MURDER – The Son Of Misery
09. IMMOLATION – Morbid Visions (feat. Max Cavalera) (Sepultura cover)
10. NAILED TO OBSCURITY – King Delusion
11. BLEEDING GODS – Beloved By Artemis
12. DECAPITATED – Sane (Meshuggah cover)
13. AENIMUS – Before The Eons
14. PARADISE LOST – Frozen Illusion
15. CARCASS – A Wraith In The Apparatus
16. BRUJERIA – Viva Presidente Trump!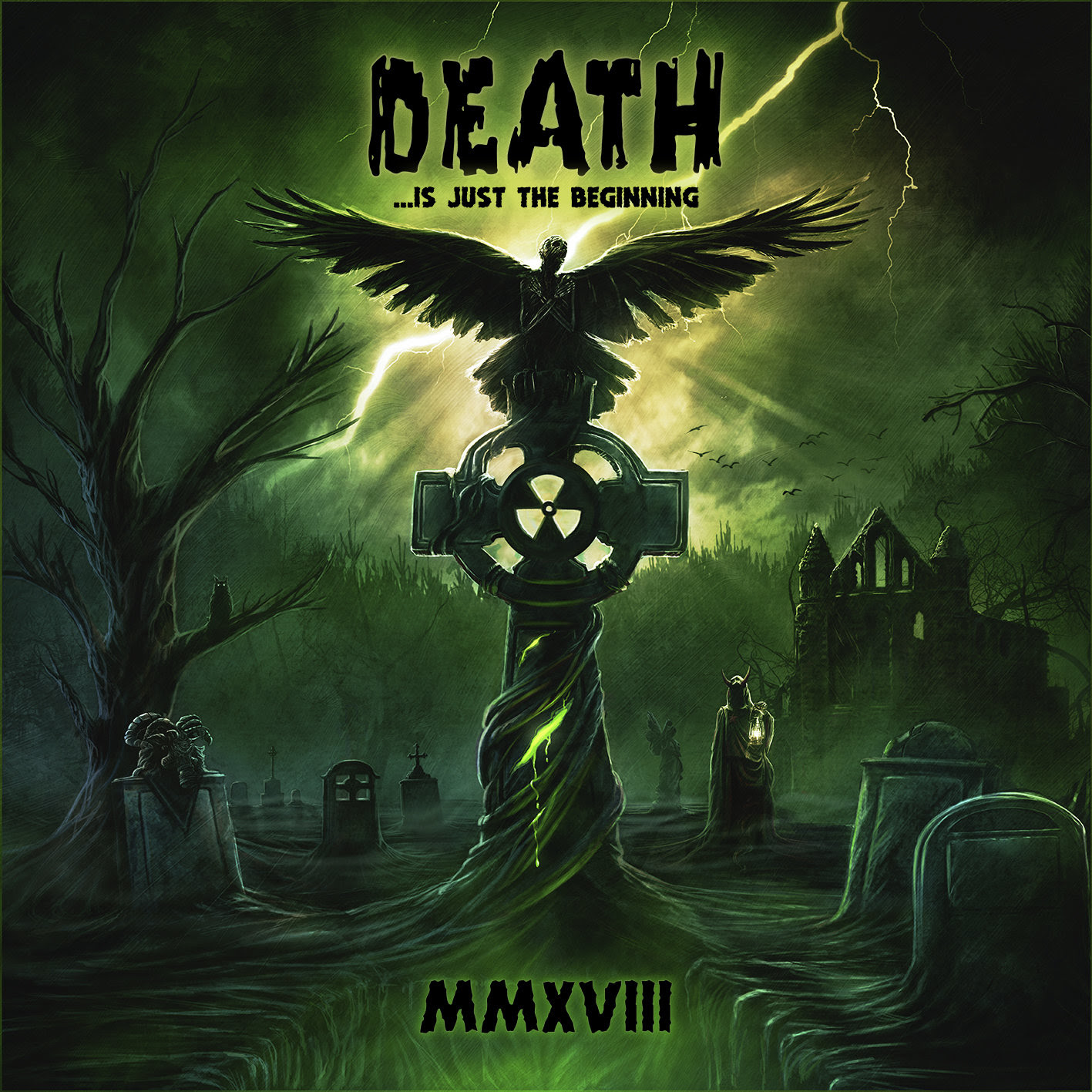 "Death…Is Just The Beginning"
KATAKLYSM, HYPOCRISY, THE SPIRIT
23.10.              H         Budapest – Barba Negra
24.10.              A          Vienna – Arena
25.10.              PL        Wrocław – A2 ***NEW LOCATION***
26.10.              D         Geiselwind – MusicHall
27.10.              I           Milan – Live Music Club
28.10.              CH       Pratteln – Z7
29.10.              F          Lyon – Ninkasi Kao
31.10.              E          Madrid – Sala Mon
01.11.              E          Barcelona – Razzmatazz 2
02.11.              F          Limoges – CC John Lennon
03.11.              F          Paris – La Machine du Moulin Rouge
04.11.              B          Antwerp – Trix
05.11.              D         Hamburg – Docks
06.11.              S          Gothenburg – Trädgår'n
07.11.              S          Stockholm – Fryshuset
09.11.              FIN       Helsinki – The Circus
10.11.              FIN       Tampere – Pakkahuone
12.11.              DK       Copenhagen – Pumpehuset
13.11.              NL        Leeuwarden – Neushoorn
14.11.              D         Berlin – Kesselhaus
15.11.              D         Dresden – Eventwerk
16.11.              D         Oberhausen – Turbinenhalle 2
17.11.              D         Leipzig – Hellraiser
More Info:
www.nuclearblast.de