– September 5th, 2023 –
How It Ends Full-Length Nears Release Via Metal Blade Records
Photo by Fergal Flannery
Watch/stream PRIMORDIAL's "Pilgrimage To The World's End" HERE.
Dublin, Ireland-based Pagan metal icons PRIMORDIAL today unveil their new single, "Pilgrimage To The World's End," and its accompanying lyric video. The track comes by way of the band's tenth studio album, How It Ends, set for release on September 29th via Metal Blade Records.
Having lasted thirty-two years and now returning with their devastating new studio offering, the Irish band has made it clear they are a primal force who consistently lay it all on the line. The follow-up to 2018′s critically lauded Exile Amongst The Ruins, How It Ends finds PRIMORDIAL delivering more of their seminal blend of Celtic and black metal, with an extra added urgency, and staring down the apocalypse. in a world cluttered with soundalike bands in just about every metal subgenre, PRIMORDIAL offers something real that cannot be denied. Says vocalist A. A. Nemtheanga. "It sounds stupid to say, but it's not fantasy, not escapism. It's not compromised and co-opted, it's genuine, in a world where that seems to count for less and less."
"The title is a question – 'is this how it ends?' How it all goes down: culture, language, history, society – humanity – who knows?," continues Nemtheanga. "Regardless of who you are or were, you get one chance at all of this, and it's asking is this the end of your town, state, nation? Myths, traditions, relationships, and I suppose it asks the question, who reacts, who rebels – how does it end now for them?"
Working alongside founding members – bassist Pól MacAmlaigh and guitarist Ciáran MacUilliam – and longtime drummer Simon O'Laoghaire, the band started writing in earnest in the Fall of 2022, having lit a fire under themselves to work hastily and productively. PRIMORDIAL never plans out a record beforehand, letting them come together naturally, though Nemtheanga knew he wanted something with a bigger, more open sound, and something more aggressive, which is exactly what they achieved.
Drawing lyrical influence both from modern and historical ideas, Nemtheanga always gives the listener something to think about, and How It Ends is no different. Latest single, the moody, desperate "Pilgrimage To The World's End," was inspired partly by the stories of poor Irish convicts, sent to the world's end; figures like Ned Kelly who refused to accept the laws oppressing them and "who then rebelled and came to embody, through myth, resistance. This is an album of resistance," notes Nemtheanga, "'Pilgrimage To The World's End' started out being inspired by the travails of Irish people sent as convicts to Australia, but of course I folded that into a post 'Coffin Ships' narrative, poor people boarding boats to try and reach a new world to start over anew, how many went down the boats, endured sickness, death, never reached their destination. Then I began to really consider nthe plight of all people within that 19th century period who by famine, war, poverty tried to seek a new life; the oppressed and the downtrodden. So as PRIMORDIAL always has a historical echo that should resonate with the modern day, we see the same thing, poor people clinging to boats trying to seek a new life, always at the behest of a small economic elite who profit from their ruin. This is the song of the war and famine torn refugee from all countries and nations…"
Watch PRIMORDIAL's "Pilgrimage To The World's End" lyric video at THIS LOCATION.
Watch the band's previously released video for first single, "Victory Has 1000 Fathers, Defeat Is An Orphan," at THIS LOCATION.
How It Ends was tracked at Hellfire Studios on the outskirts of Dublin, produced by the band and engineered by previous collaborator Chris Fielding. The record will be released in the following formats:
(Worldwide) – Digital
(US) – Jewel Case CD
(Worldwide) 2xLP in Gatefold, with insert and download card
(EU) – 2xDigipak CD (6-panel digi w/ 12-page booklet) w/ 6-bonus tracks
(EU) 2xLP Special Edition in Gatefold, with insert and downloadcard in slipcase with tote bag, slipmat, double-sided poster (ltd. to 1000 copies)
Find pre-orders at: metalblade.com/primordial
Coinciding with the release of How It Ends, PRIMORDIAL will serve as direct support to Paradise Lost on the Ultima Ratio Fest European Tour. Additional support will be provided by Omnium Gatherum and Harakiri For The Sky. Find tickets at THIS LOCATION.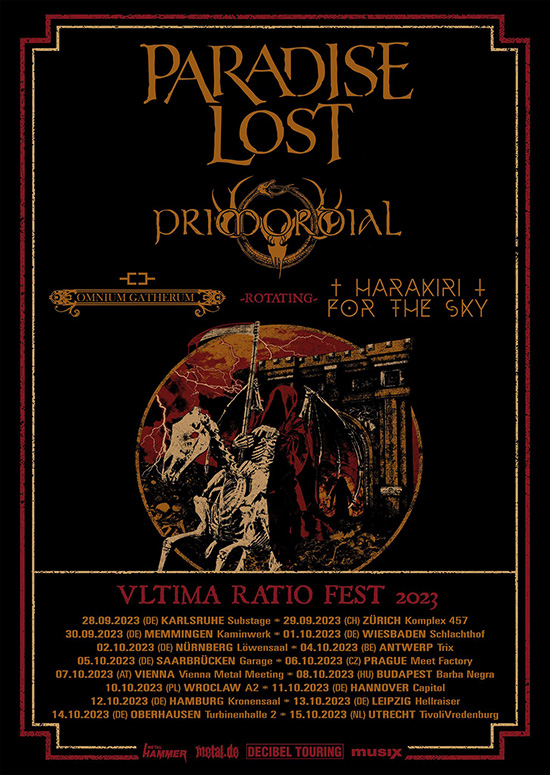 PRIMORDIAL w/ Paradise Lost, Omnium Gatherum, Harakiri For The Sky:
9/28/2023 Substage – Karlsruhe, DE
9/29/2023 Komplex – Zurich, CZ
9/30/2023 Kaminwerk – Memmingen, DE
10/01/2023 Schlachthof – Wiesbaden, DE
10/02/2023 Löwensaal – Nuremberg,DE
10/04/2023 Trix – Antwerp, BE
10/05/2023 Garage – Saarbrücken, DE
10/06/2023 MeetFactory – Prague, CZ
10/07/2023 Vienna Metal Meeting – Vienna, AT
10/08/2023 Barba Negra – Budapest, HU
10/10/2023 A2 – Wroclaw, PL
10/11/2023 Capitol – Hanover, DE
10/12/2023 Kronensaal – Hamburg, DE
10/13/2023 Hellraiser – Leipzig, DE
10/14/2023 Turbinenhalle 2 – Oberhausen, DE
10/15/2023 Roanda – Utrecht, NL
PRIMORDIAL:
A.A. Nemtheanga – vocals
Ciarán MacUilliam – guitar
Pól MacAmlaigh – bass
Simon O'Laoghaire – drums
https://www.primordialofficial.com
https://www.facebook.com/primordialofficial
https://www.instagram.com/primordial_official
Buy iTunes Artist Page Artist News