2018 marks the 20th anniversary of LACUNA COIL's debut. To celebrate this special year, they played an exceptional show on January 19 in London at the O2 Forum Kentish Town. The unique, one-time event was filmed and recorded for "The 119 Show – Live In London" which is out now.
To celebrate the release LACUNA COIL are releasing another clip, check out "Nothing Stands In Our Way (The 119 Show – OFFICIAL VIDEO)"
Cristina Scabbia (vocals): "We've been counting the days and THE DAY has finally come: our '119 Show – Live in London' is officially OUT!  Whether you want to re-live that one-of-a-kind night with Incandescence Circus at the O2 Forum or you want to see it for the very first time, this release will be the perfect add to your musical/visual collection… or even as a perfect Christmas gift! Hope you enjoy the vision as much as we loved to put this together for you all!"
The band previously released "The House Of Shame (The 119 Show – Live In London)";
"Blood, Tears, Dust (The 119 Show – Live In London)"
as well as a trailer.
Fans are getting not only to a very special live performance that was accompanied by the UK circus group Incandescence, but also to a career spanning set including LACUNA COIL songs never played live before.
"The 119 Show – Live In London" is available in the following formats: 2CD/DVD, Blu-ray/DVD/2CD, Digital Album.
Click here for some options to order.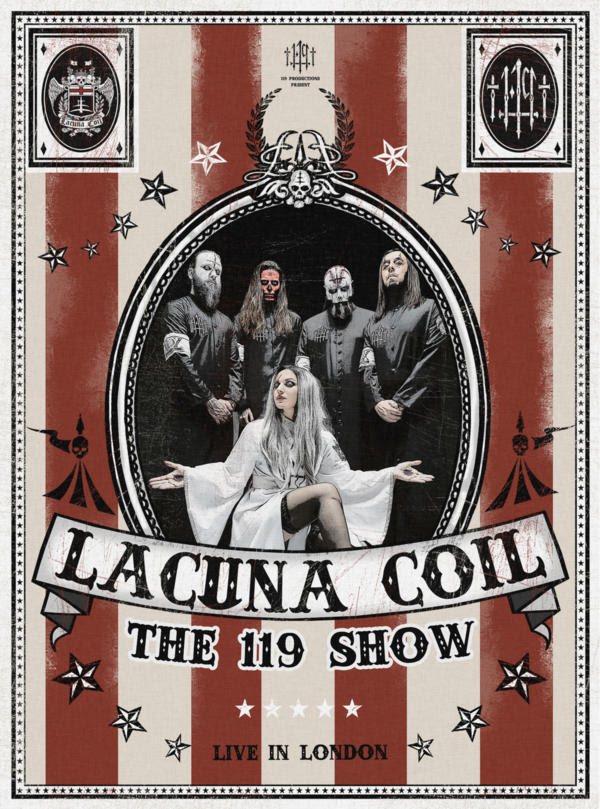 Early 2018 also saw Cristina Scabbia take on the prominent role of a coach for The Voice Of Italy on prime-time Italian national TV. LACUNA COIL were awarded the fan voted "Best Live Band" award at the prestigious Metal Hammer Golden Gods in London, UK. Additionally they were announced for a very important career recognition award for their 20 years together as a band from MEI which is the annual meeting of the Independent labels in Italy.
LACUNA COIL online:
http://lacunacoil.com/
https://www.facebook.com/lacunacoil
https://www.instagram.com/lacunacoilofficial/
http://www.twitter.com/lacuna_coil
http://www.emptyspiral.net