Eislingen/Fils, Germany based punkrock heroes ITCHY released the hidden bonus track 'Kill Tomorrow' off their latest album »All We Know« (2017), today! The bonus track is covert between the lines in the album's booklet.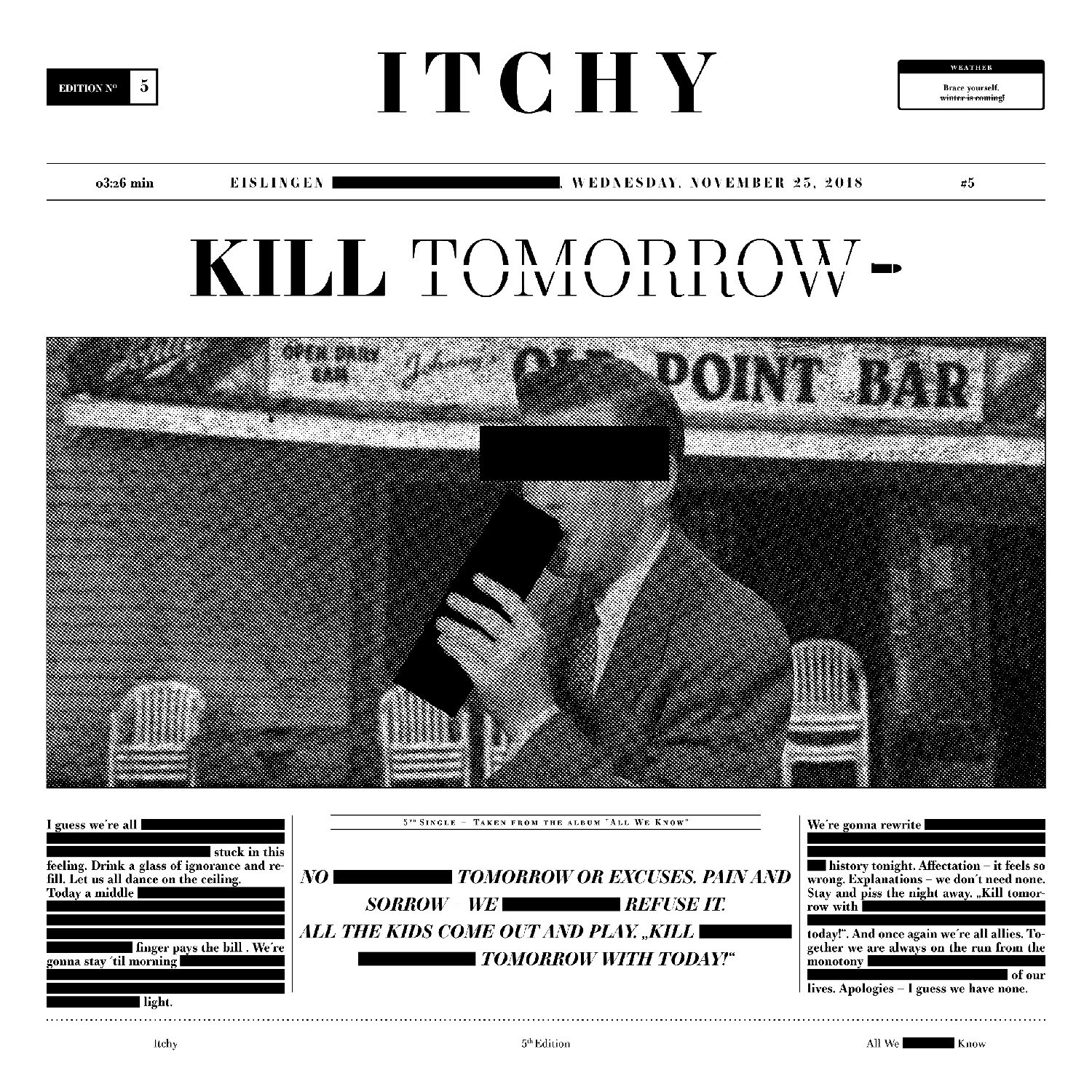 Get the hidden bonus track 'Kill Tomorrow' now here: https://Itchy.lnk.to/KillTomorrow
Buy »All We Know« (2017) now here: https://Itchy.lnk.to/AllWeKnow
Officiall videos off their latest album »All We Know«:
'Stuck With The Devil' [Grosstadtgeflüster Remix]:
'Black':
'The Sea':
'Fall Apart':

'Nothing':
It is an amazing feeling when there is no need for something, but the possibility for everything. When you as a punk rock band like ITCHY do not have to follow a certain trend, and then drown in some hype or suddenly being forgotten. When one suddenly realizes how good one really looks with skinned elbows, old trousers, blood-crusted lips and a smile in which several teeth are missing.
And it is amazing when you don't have to get the mess out of your clothes anymore. Because after 15 years of band history and more than 900 shows in 20 countries, Sibbi, Panzer and Max from ITCHY can finally relax now on their 7th studio album entitled »All We Know«!
From now they've started travelling with the absolute know-how of their own strengths – without any luggage. After the first one and a half decades, the last album in 2015 on the 5th place of the German album charts WITHOUT big TV show and thick pants, as well as a long break, the trio from Eislingen an der Fils has changed their old band name ITCHY POOPZKID into ITCHY – the actual nick name of the band used by fans already since several years. Now they are concentrating on new important things:
Textually and musically, »All We Know« is much deeper, more diverse and even matured or "more adult". If you can ever have your musical Coming of Age as an old stager of the punk rock scene, then please do it like that!
You can find lots of chin hooks regarding to individual persons as well as social-critical beatings in singles like'Nothing' or 'Fall Apart', but this time just somehow more casual. Cooler. Prancing. The new songs on »All We Know« are full of groove, positive power and singalong hits and can still be melancholy and thoughtfully, without being embittered. In other words: with all the energy, this time ITCHY do not necessarily take the shortest route to run through the wall with their heads making sure to allow the sun to shine through it. They also do not have to: With the 3rd single 'The Sea', the summer has been brought along for the festivals that are waiting for the reliable live band ITCHY and their new songs out there.
ITCHY are:
Sibbi | vocals/guitars
Panzer | vocals/bass
Max | drums
—
More info:
www.itchyofficial.de
www.facebook.com/pg/ITCHYofficial1
www.instagram.com/itchyofficial1