Swedish newcomers FOLLOW THE CIPHER are preparing to hit the road with Finnish hard rock monsters LORDI next month to support their self-titled debut album live on stage. But before that kicks off, the
band is pleased to unveil more great news: FOLLOW THE CIPHER will also support no less than modern melodic metallers AMARANTHE in early 2019! Opening support will come from WARKINGS. All details can be found below.
States Ken Kängström, "We are more than pumped to be touring as special guests for the revolutionary AMARANTHE alongside support act WARKINGS. This will also be a good opportunity to cover some new ground and also revisit some familiar places. We hope to see a lot of CIPHER fans out there, and also get to see many new faces. We truly can't wait for this one."
Adds AMARANTHE guitarist Olof Mörck, "In the wake of the two European tour legs with POWERWOLF, we of course wanted to play a row of headline shows! These will be full length AMARANTHE experiences like none you have experienced before, and we are beyond excited to perform as much of our new opus »Helix« as possible! Joining us on this run are our friends in FOLLOW THE CIPHER and WARKINGS, so expect a full evening filled with varied range of crushing melodic metal!"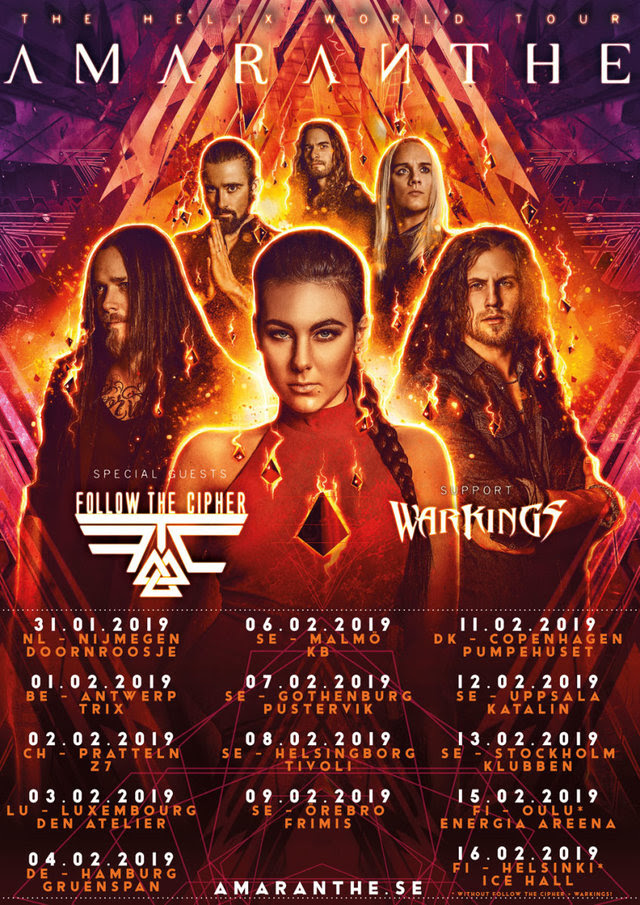 »The Helix World Tour 2019«
w/ AMARANTHE, WARKINGS
31.01. NL Nijmegen – Doornroosje
01.02. B Antwerp – Trix Muziekcentrum
02.02. CH Pratteln – Z7
03.02. LUX Luxembourg – Den Atelier
04.02. D Hamburg – Gruenspan
06.02. S Malmö – Kulturbogalet
07.02. S Gothenburg – Pustervik
08.02. S Helsingborg – The Tivoli
09.02. S Örebro – Frimis Salonger
11.02. DK Copenhagen – Pumpehuset
12.02. S Uppsala – Katalin
13.02. S Stockholm – Fryshuset Klubben
More FTC dates: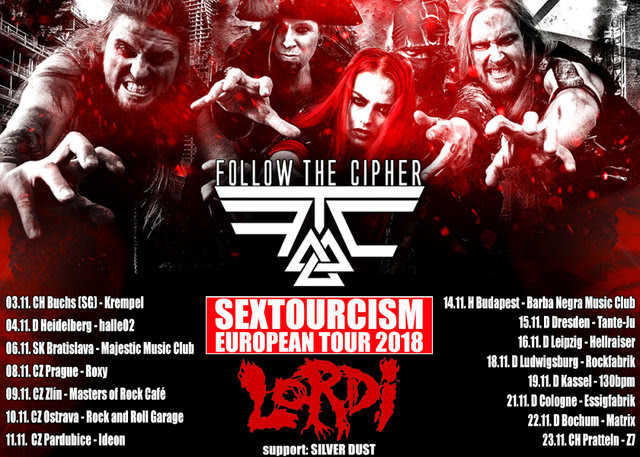 »Sextourcism – European Tour 2018«
w/ LORDI, SILVER DUST
03.11. CH Buchs (SG) – Krempel
04.11. D Heidelberg – halle02
06.11. SK Bratislava – Majestic Music Club
08.11. CZ Prague – Roxy
09.11. CZ Zlín – Masters of Rock Café
10.11. CZ Ostrava – Rock and Roll Garage
11.11. CZ Pardubice – Ideon
14.11. H Budapest – Barba Negra Music Club
15.11. D Dresden – Tante-Ju
16.11. D Leipzig – Hellraiser
18.11. D Ludwigsburg – Rockfabrik
19.11. D Kassel – 130bpm
21.11. D Cologne – Essigfabrik
22.11. D Bochum – Matrix
23.11. CH Pratteln – Z7
29.12. S Helsingborg – The Tivoli (w/ ELEINE, WE ARE THE CATALYST) *NEW*
Order » Follow The Cipher «
Order the album digitally
More on »Follow The Cipher« :

'The Rising' OFFICIAL LYRIC VIDEO:
'Valkyria' OFFICIAL MUSIC VIDEO:
'Carolus Rex' OFFICIAL MUSIC VIDEO:
'A Mind's Escape' OFFICIAL LYRIC VIDEO:
'Enter The Cipher' OFFICIAL LIVE VIDEO:

'Winterfall' OFFICIAL LIVE VIDEO:

'I Revive' OFFICIAL LIVE VIDEO:

Trailer #1 – The History Of The Band:

Trailer #2 – About 'Valkyria':

Trailer #3 – About The Lyrics:

Trailer #4 – About 'Carolus Rex':

Trailer #5 – About 'Starlight':

Trailer #6 – About Linda:
—
Let's take a little look into the past: FOLLOW THE CIPHER's story started in May 2014, when Ken Kängström decided to start a band with the intention to be different from everything else in the music scene. The idea itself had been haunting his mind for years, but the catalyst to finally put his thoughts into action was the result of a longtime collaboration with the internationally acclaimed metal giants SABATON, with whom FOLLOW THE CIPHER maintain a close friendship. Ken Kängström is definitely not a newcomer in the Scandinavian music scene, since he co-wrote and co-produced some well-known SABATON songs with Joakim Brodén, such as the monumental anthem 'Carolus Rex'. It was this track which got the ball rolling for Ken: "I think the song sparked the first inspiration in me – in particular, it was responsible for me starting to trust my own abilities and judgment," Ken reflects. "When me and Joakim wrote this track, I felt deep inside that it was time to put my plans with FOLLOW THE CIPHER into action." Therefore, the band has also included a version of this important track on their debut album.
Something unique was born, growing to become a mixture between NIGHTWISH, IN FLAMESand SABATON, yet creating something completely different and innovative. "I consider our music as both visual and cinematic," says Ken. "The sound is large-scaled and multi-layered – each element plays an important role within the overall concept. You can listen to our music in two different ways; either by focusing on the individual, versatile elements like the keyboard melodies or Linda's powerful voice, or you can indulge in the whole package. Both type of listeners will get what they are looking for in our very own CIPHER metal!"
The CIPHER crew consists of five talented members; Linda Toni Grahn, a fantastic and highly talented singer, equipped not only with a powerful and characteristic voice, but also outstanding charisma. When taking to the stage, all it takes are a few seconds for Linda to capture everyone's attention. "Linda is unique – she stands out from the crowd, not only as a great singer, but also as a charismatic personality! Immediately after meeting her, I knew she would be the right person for us!" Ken Kängström (guitar) recalls the first meeting with their female captain of the CIPHER workforce. Other crew members include Karl Löfgren (drums), Viktor Carlsson(guitar) and Jonas Asplind (bass).
To cut a long story short, the CIPHER crew is more than ready to take you on an exciting journey through the darkest galaxies of metal. It's time to open a new chapter of heavy metal history – it's time to FOLLOW THE CIPHER!
—
More info:
www.followthecipher.com
www.facebook.com/followthecipher
www.nuclearblast.de/followthecipher