Melodic death/thrashers Extremity Obsession forrmed in 1990 at Korinthos/Greece by Dan Kafkis, Angel Batsalias , Iraklis Kollias & George Kollias(Nile).
They were active the period 1990-1998 and they released 2 demos,  the first one in 1996 (Demo tape 1996) and the second one in 1997 (Everlasting Demo), earning very good reviews from the Metal magazines of that era (Demo of the month / Metal Hammer Greece, Metal Invader / October  1997).

They participated in many live shows and festivals, as support group and later as headliners. Reunited in 2016 and still playing the same musical genre.
Οn May 1st 2018 they released their first complete full length album entitled ANTHROPOCENTRIC ERA VOL. I , that you could free download by following this link :
ANTHROPOCENTRIC ERA VOL. I
1. DESERT
2. WAR SAY NO MORE
3. MORTAL GODS
4. RECEIVE THE SOUL OF MINE
5. LINK
6. DEMONS IN YOUR SOUL
7. VISIONS
8. EXTREMITY OBSESSION
On November 1st 2018 they released the ANTHROPOCENTRIC ERA VOL II full length album , also free download by the next link :
ANTHROPOCENTRIC ERA VOL II
1.PRISONERS OF HOPE
2.THORNING
4.MUD'S DIMENSION
5.HALF CLOSED EYES
6.RECYCLED BRAINS
7.RELIEF FROM PAIN
8.TURBULENT CAULDRON OF STARBIRTH
On May 1st 2019 they released the cd single entitled ROOT OF DESTRUCTION (free download by the next link)
ROOT OF DESTRUCTION
1. ROOT OF DESTRUCTION
2. FEATURING THE GREAT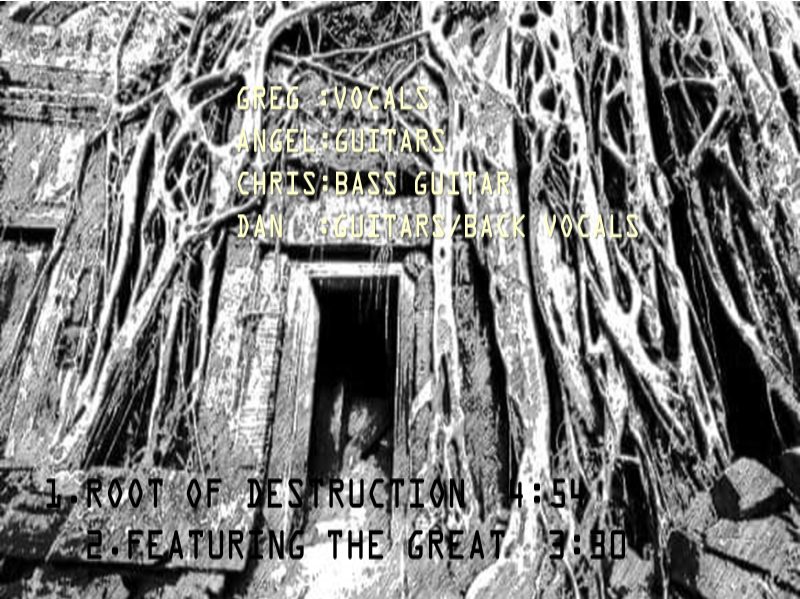 Current Line up
GREG BARLAS        : VOCALS
ANGEL BATSALIAS : GUITARS
CHRIS  TEKAS        : BASS GUITAR
DAN KAFKIS            : GUITARS / BACK VOCALS