– February 22nd, 2022 –
Silhouettes Of Disgust Full-Length Nears Release Via Metal Blade Records
Photo by David Stöcklin
View DOWNFALL OF GAIA's "Existence of Awe" video HERE
DOWNFALL OF GAIA today unleashes their latest single, "Existence Of Awe." The pummeling new psalm comes by way of the band's sixth studio album, Silhouettes Of Disgust, scheduled to drop on March 17th via Metal Blade Records.
Progressing in part by looking backwards and returning to familiar territory, DOWNFALL OF GAIA's Silhouettes Of Disgust delivers a dynamic and textured blend of crust punk and post-black metal doused in atmospheric elements, taking everything that ever made the band compelling and pushing it in new and gripping directions. The record includes the return of guitarist Peter Wolff, who left the band in 2015 to focus on family and other pursuits. They've also expanded their sonic palette with the addition of synths for the first time, and female vocals courtesy of Lulu Black, who collaborates with drummer Michael Kadnar in industrial/gothic project This Is Oblivion.
Wanting to keep things short, simple, and a bit more confrontational, the record does not feature the eight- to ten-minute epics of the band's more recent releases and is indeed punchier, with a lot of classic d-beat drumming driving the action, as on the surging "Unredeemable" and opener/latest single, "Existence Of Awe."
Elaborates vocalist/guitarist Dominik Goncalves dos Reis, " 'Existence Of Awe' is a song about those inner demons and ghostly companions that many in this day and age are at the mercy of and have to fight against in whatever form. A condition that one often carries around unnoticed on the outside, which is not immediately visible to many, and that one must somehow learn to live with…"
View DOWNFALL OF GAIA's visualizer for "Existence Of Awe" at THIS LOCATION.
View the band's previously released video for "Bodies As Driftwood" at THIS LOCATION as well as a companion drum playthrough for the track at THIS LOCATION.
Silhouettes Of Disgust will be released on CD, LP, and digitally. Find pre-orders at: metalblade.com/downfallofgaia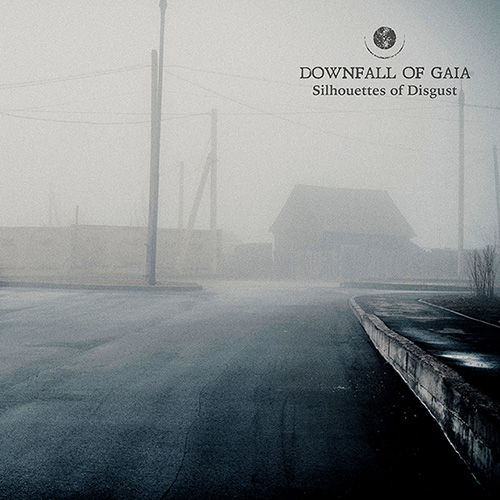 The title Silhouettes Of Disgust is derived from the narratives driving the songs, focusing on the stories of eight different people, as residents of a fictional metropolis, each with their own worries and struggles. "Loneliness, addiction, the fear of tomorrow, pressure from society/work and others, things that many of us probably know all too well," explains Goncalves dos Reis. "You have to play along somehow, or you fall through the cracks, and once you're down, it's hard to get back up. It looks at selfishness and ignorance, the general way of dealing with each other – you're one, surrounded by millions, surrounded by all these silhouettes of disgust, surrounded by the things you want to avoid and hate. The last few years have impressively proven what you can expect from humanity, and honestly, it's not much."
Silhouettes Of Disgust was initially slated to be recorded with producer Timo Höcke at Die Wellenschmiede studio in Hamburg, however a few days before recording was due to commence, Höcke unfortunately contracted Covid. "Due to schedules, family matters and private life, the planned time frame was the only chance to record the album without losing several months, so with drums tracked in New Jersey at Backroom Studios together with Kevin Antreassian, we ended up recording the rest of the album alone in Peter [Wolff]'s studio in Hamburg. After recording guitars, bass, and vocals we went to Die Wellenschmiede for one day — as it was actually planned — and re-amped our own recordings, with Timo handling the mix and Jonas Romann (Chaos Compressor Club) mastering the record." The record comes adorned in the cover art of Wolff and Goncalves dos Reis.
DOWNFALL OF GAIA will return to the stage this April on a short run of European live dates celebrating the release of Silhouettes Of Disgust. The tour kicks off on April 11th in Munich Germany and runs through April 23rd in Berlin, Germany. The band will be joined by Implore and Deathrite on select shows. See all confirmed dates below.
DOWNFALL OF GAIA w/ Implore:
4/11/2023 Backstage – Munich, DE
4/12/2023 Jugendhaus – West Stuttgart, DE
4/13/2023 Bandhaus – Leipzig, DE
4/14/2023 Underdogs – Prague, CZ
4/15/2023 TBA
w/ Deathrite:
4/19/2023 Pul – Uden, NL
4/20/2023 Rockpalast – Bochum, DE
4/21/2023 TBA – Osnabrück, DE
4/22/2023 Headcrash – Hamburg, DE
4/23/2023 Cassiopeia – Berlin, DE
DOWNFALL OF GAIA:
Dominik Goncalves dos Reis – vocals, guitars
Peter Wolff – guitars, vocals
Anton Lisovoj – bass, vocals
Michael Kadnar – drums
http://www.downfallofgaia.com
https://www.facebook.com/DownfallofGaia
https://www.instagram.com/downfallofgaia
Buy iTunes Artist Page Artist News