There are only 5 weeks left until old-school heavy metal newcomers BURNING WITCHES finally unleash their sophomore record titled »Hexenhammer«, via Nuclear Blast Records(November 9).
Following on from two trailers that delivered fans insight into the band's history as well as the new record's concept & cover artwork, the group is today proud to release another musical taster in the form of the music video for 'Hexenhammer' today.
Check it out over on YouTube:
States the band, "The filming of the 'Hexenhammer' video was an exciting new experience for the band. Our second video dives into the story of »Malleus Maleficarum«, written by the discredited Catholic clergyman Heinrich Kramer, to legitimate his cruel deeds against woman in the 15th century. The title track stands for the album, it is melodic and heavy and reflects the sound of the band in a perfect way! We hope you will enjoy the video, which opens up a new authentic chapter for the band!
"We wanna thank the Witchcraft museum in Gränichen/Switzerland and its founder and director Miss Wicca Meier-Spring and her team for the support on this large project. Also we wanna thank the Operahouse of Zurich for the costumes and the props. Ancient recordings and editing by Michael Buzek – cheers to the whole team for making this amazing venture possible!"
Pre-order »Hexenhammer« here: http://nblast.de/BWHexenhammer
Pre-order the album digitally to receive 'Hexenhammer' and 'Executed' instantly!
Pre-save the album via Spotify: http://nblast.de/BURNINGwitchesPreSave
Listen to these tracks in the NB Novelties Playlist: https://open.spotify.com/user/nuclearblastrecords/playlist/6aw9wiedFzzhJiI96DhNhw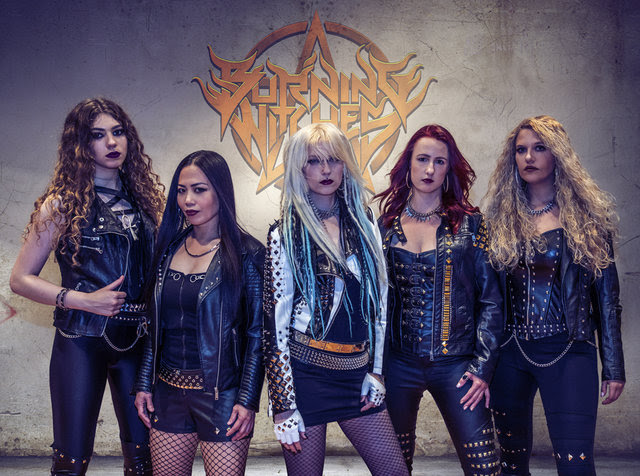 More on »Hexenhammer«:
'Executed' OFFICIAL LYRIC VIDEO: https://www.youtube.com/watch?v=840vcVzth-0
Album Trailer #1: https://www.youtube.com/watch?v=mm89QYxQiw0
Album Trailer #2: https://www.youtube.com/watch?v=ZboxMDO-af8
Studio Trailer: https://www.youtube.com/watch?v=EB6_sRCU_TY
»Hexenhammer« – Track Listing:
01. The Witch Circle
02. Executed
03. Lords Of War
04. Open Your Mind
05. Don't Cry My Tears
06. Maiden Of Steel
07. Dungeon Of Infamy
08. Dead Ender
09. Hexenhammer
10. Possession
11. Maneater
12. Holy Diver
Bonus Tracks
13. Self Sacrifice
14. Don't Cry My Tears (Acoustic)
The forthcoming record was produced in the Little Creek Studio by the same team as its predecessor: V.O. Pulver (PRO-PAIN, DESTRUCTION, NERVOSA, PÄNZER) and DESTRUCTION legend Schmier, who helped and advised as a close friend of the band. The result is a truly brilliant heavy metal album, which will take away the breath of metal heads worldwide, and of course make people bang their heads!

The stunning cover artwork was created by acclaimed Hungarian artist Gyula, who has also created artwork for DESTRUCTION, ANNIHILATOR, GRAVE DIGGER, STRATOVARIUS,TANKARD and many more.
—
BURNING WITCHES live:
»Metal Storm Tour 2018«
w/ GONOREAS
06.10. E Vitoria-Gasteiz – Urban Rock Concept
07.10. E Tarragona – Sala Zero
08.10. E Valencia – Paberse Club
09.10. E Puertollano (Ciudad Real) – Krater Rock City
10.10. E Zaragoza – Carpa Rock Interpeñas
14. – 21.10. E Mallorca – Full Metal Holiday
Releaseshows
09.11. CH Brugg – Salzhaus
10.11. D Mannheim – MS Connexion Complex
»The Tour Of The Living Dead«
w/ GRAVE DIGGER
Presented by Rock Hard (D)
11.01. D Hanover – MusikZentrum
12.01. D Andernach – JUZ Live Club
13.01. CH Pratteln – Z7
14.01. D Munich – Backstage
15.01. D Aschaffenburg – Colos-Saal
16.01. D Saarbrücken – Garage
17.01. D Bochum – Zeche
18.01. D Glauchau – Alte Spinnerei
19.01. D Neuruppin – Kulturhaus
20.01. NL Rotterdam – Baroeg
22.01. D Hamburg – Martkhalle
23.01. D Berlin – Lido
24.01. D Bamberg – Live-Club
25.01. D Regensburg-Obertraubling – Airport-Eventhall
26.01. D Memmingen – Kaminwerk
27.01. D Ludwigsburg – Rockfabrik
28.01. F Paris – Petit Bain
29.01. UK London – Camden Underworld
30.01. B Vosselaar – Biebob
31.01. F Lyon – CCO Villeurbanne
01.02. E Bilbao – Santana 27
02.02. E Madrid – Sala Mon Live
03.02. E Barcelona – Razzmatazz 2
BURNING WITCHES is:
Seraina | vocals
Romana | guitars
Sonia | guitars
Jay | bass
Lala | drums
—
More info:
www.facebook.com/burningwitches666
www.nuclearblast.de/burningwitches