– February 3rd, 2023 –
Tickets On Sale TODAY!
Photo by Stephanie Cabral
Cleveland death metal outfit and recent Metal Blade Records signees 200 STAB WOUNDS will support Dark Funeral on this year's edition of the Decibel Magazine Tour! The trek begins on May 11th in Santa Ana, California and runs through June 10th in Los Angeles, California. Additional support will be provided by Cattle Decapitation and Blackbraid.
Comments the band, "We're ready to rip the Decibel Tour across North America with Dark Funeral! Get your tickets and come rage with us. These shows are going to be ones to remember. See you at the gig!"
Tickets go on sale TODAY, Friday, February 3rd at 10:00am local time. See all confirmed dates below.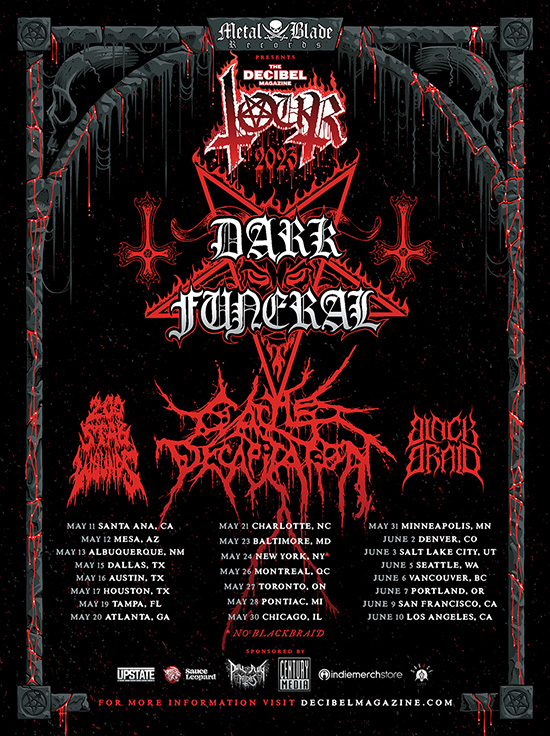 200 STAB WOUNDS w/ Dark Funeral, Cattle Decapitation, Blackbraid:
5/11/2023 The Observatory – Santa Ana, CA
5/12/2023 The Nile Theater – Mesa, AZ
5/13/2023 El Rey – Albuquerque, NM
5/15/2023 Granada Theater – Dallas, TX
5/16/2023 Empire Control Room – Austin, TX
5/17/2023 The Warehouse – Houston, TX
5/19/2023 The Orpheum – Tampa, FL
5/20/2023 Variety Playhouse – Atlanta, GA
5/21/2023 The Underground – Charlotte, NC
5/23/2023 Baltimore Soundstage – Baltimore, MD
5/24/2023 Irving Plaza – New York, NY * No Blackbraid
5/26/2023 Club Soda – Montreal, QC
5/27/2023 Phoenix Concert Theatre – Toronto, ON
5/28/2023 Crofoot Ballroom – Pontiac, MI
5/30/2023 The Metro – Chicago, IL
5/31/2023 First Avenue – Minneapolis, MN
6/02/2023 The Summit – Denver, CO
6/03/2023 The Complex – Salt Lake City, UT
6/05/2023 El Corazon – Seattle, WA
6/06/2023 The Vogue Theater – Vancouver, BC
6/07/2023 The Roseland Ballroom -Portland, OR
6/09/2023 The Regency Ballroom – San Francisco, CA
6/10/2023 Regent Theater – Los Angeles, CA
Formed in 2019, the band that BrooklynVegan refers to as, "stupidly heavy" pays homage to old-school death metal in the vein of Cannibal Corpse, Dying Fetus, and Mortician while carving out their own brutal sound in this new wave of death metal starting to boil up in the metal scene. Stream 200 STAB WOUNDS' latest single "Masters Of Morbidity" at: youtu.be/Y93ynEu01uE
"With a pitch-black sense of humor, the Cleveland death metal quartet boils the genre down to its essence – which means they live and die by the riff" PITCHFORK
"This Cleveland collective are out to slaughter unsuspecting death metal fans with a fury heavily rooted in death metal's past, bringing to mind the best combinations of the sounds from the late 1980s to early 1990s with an undeniable underlying groove provided by the guitars and bass." INVISIBLE ORANGES
"They've only been around since 2019, but 200 Stab Wounds shows are already notorious bloodbaths." REVOLVER
"You are walking into a slaughterhouse and 200 Stab Wounds is holding the sledgehammer." METAL INJECTION
"The noise that 200 Stab Wounds have been making is far from subtle." BLOODY DISGUSTING
https://www.200stabwounds.net
https://www.metalblade.com/200stabwounds
https://www.facebook.com/200StabWounds
https://www.instagram.com/200stabwounds
https://twitter.com/200stabwounds
https://linktr.ee/200stabwounds
Buy iTunes Artist Page Artist News